Posted on
Mon, Feb 25, 2013 : 10 a.m.
Citizens academy to provide hands-on education of the public safety system
By Kody Klein
Craig Sidelinger, a training officer for the Ann Arbor Fire Department, has a question for you:
"When was the last time you discharged an (fire) extinguisher?" he asked. "You take it for granted that they're all around, but you may have never used one."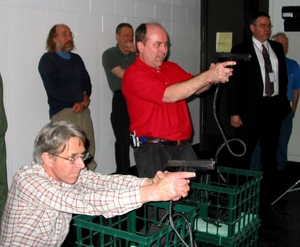 AnnArbor.com file photo
Sidelinger said people will learn to do that and more in the third annual Ann Arbor Citizens' Police, Fire and Courts Academy.
Students of the citizens academy will study a variety of topics in the public safety system and will get a hands-on education of the challenges police officers, firefighters, and members of the judicial system face on a regular basis.
"We're showing what your public dollars go to do," Sidelinger said.
The wide range of activities include putting out a fire with a real fire extinguisher, using the firetruck water hose, role playing law enforcement in a digital training simulator and observing demonstrations of tasers and pepper spray.
Sidelinger stressed that these activities are strictly educational and do not result in certification.
"We don't hand out CPR cards, we don't hand out first aid cards," he said. "We simply expose them to what we're doing."
Sidelinger said the program culminates in a mock trial at the 15th District Court in which students may shadow the judge or the prosecuting and defense attorneys, or act as jurors.
"They're seeing from front to back how everything works," he said.
The city is accepting applications to the free class until 5 p.m. on March 8.
"The class has been full every year," Sidelinger said. "It seems to be well received by the public. They seem to enjoy having the experience and the ability to get to know what their public safety officials do."
The class is held from 6:30 to 9:30 p.m. every Tuesday, March 19 through May 21.
More information about the academy and an application to participate can be found on the city's website.