Posted on
Wed, Apr 27, 2011 : 11:34 a.m.
City administrator's office tells Ann Arbor employees not to worry about radon and asbestos in city hall
By Ryan J. Stanton
The city administrator's office sent out an e-mail to all Ann Arbor city employees on Tuesday with an official response to recent AnnArbor.com reports about radon and asbestos in city hall.
While radon readings inside city hall were found to be as high as seven times the U.S. Environmental Protection Agency's action level, the city never received a citation because the Michigan Occupational Safety and Health Administration doesn't consider it a violation unless the levels are 25 times above the EPA action level.
Both the police officers union and the city's administration plan to do their own testing of the air quality in city hall before police begin using the newly renovated basement locker rooms.
The following is a copy of the e-mail from the city administrator's office: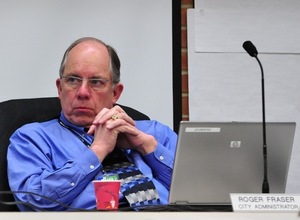 Larcom environmental quality
In light of recent media reports, the following information is provided for all employees to note regarding the Larcom City Hall building's environmental quality. Since the Larcom City Hall renovation project began in 2009, Michigan Occupational Safety and Health Administration (MIOSHA) staff have visited the worksite on multiple occasions. These visits all ended with the same results, no violations were identified or issued to the city.
The renovations included a significant removal of asbestos containing materials. Any asbestos abatement work conducted during Larcom renovations has been monitored and tested by a third-party consultant certified to do such work. In addition, third-party air quality testing companies have not been affiliated with the abatement project contractor. Abatement air quality testing includes the collection and analysis of daily clearance samples with the results being provided to the city prior to allowing City Hall occupancy each morning.
To date, there have been zero instances of unacceptable clearance samples which would prohibit occupancy of the building by staff or the public.
As the Larcom renovation project nears completion, multiple improvements to the building's environmental quality have been made, including:
Asbestos abatement has been fully completed in the basement and first floor and a portion of the second floor. Asbestos from the sixth floor was removed a number of years ago.
A state-of-the-art radon ventilation system was installed in the basement and air quality testing has been completed by a certified third party consultant to ensure it is working properly and will be tested annually.
A new ventilation and air handling system with new duct work was installed in the basement along with new duct work on the first and sixth floors. This work was important as it improves City Hall air quality and ventilation which adds to overall employee comfort.
Ryan J. Stanton covers government and politics for AnnArbor.com. Reach him at ryanstanton@annarbor.com or 734-623-2529. You also can follow him on Twitter or subscribe to AnnArbor.com's e-mail newsletters.