Posted on
Sat, Jul 14, 2012 : 3:28 p.m.
Ann Arbor City Council candidates debate trust and transparency in city government
By Ryan J. Stanton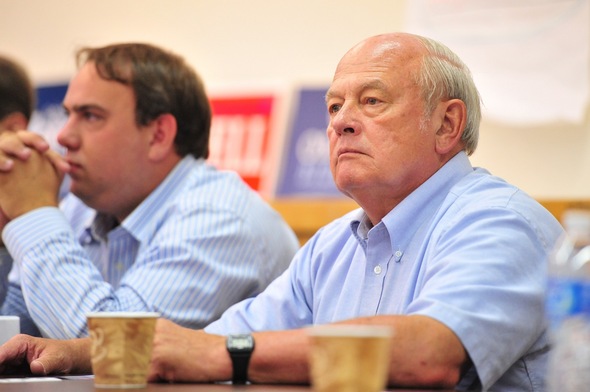 Ryan J. Stanton | AnnArbor.com
A discussion on trust and transparency in
Ann Arbor
city government led to a feisty exchange between
two 2nd Ward candidates
for City Council on Saturday.
Sally Hart Petersen, who is running as a Democrat against incumbent Tony Derezinski in the Aug. 7 primary, took issue with Derezinski after he spoke about the importance of holding neighborhood meetings to get feedback from residents.
"You have to have ward meetings," Derezinski said. "You have to go around the neighborhoods that you represent. I've had I think four or five of them already in my ward — one at Paesano's and it got too big, so we also went to my house where I had one there."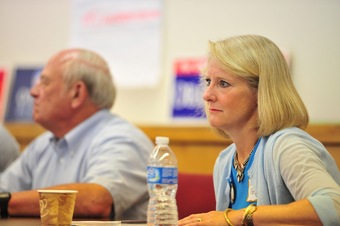 Ryan J. Stanton | AnnArbor.com
Petersen questioned the openness of those meetings.
"With all due respect, Tony, I know you have your meetings … but I've never been invited to a Ward 2 event at your home or at Paesano's," she said. "You may think it's transparent, but the message is not getting out."
Derezinski responded by subtly questioning Petersen's allegiance to the Democratic Party.
"My ward meetings are advertised, including on Democratic Party things. So if you had been an active Democrat, you would have known about it. They're there," he said.
He also suggested if Petersen had paid closer attention to local issues affecting the city, she would have known about the meetings.
"I've been at a lot of meetings and neighborhood groups all over," Derezinski said. "And who has been there besides me? A lot of Democrats."
Trust and transparency were the overarching themes of Saturday's candidate forum hosted by the Ann Arbor Democratic Party at the Ann Arbor Community Center.
Four contested races for the Ann Arbor City Council will be decided in the Aug. 7 primary and all eight Democratic candidates appeared at Saturday's event.
Four of the candidates are running with support from political allies of Mayor John Hieftje and the ruling council majority: Eric Sturgis, Margie Teall, Chuck Warpehoski and Derezinski.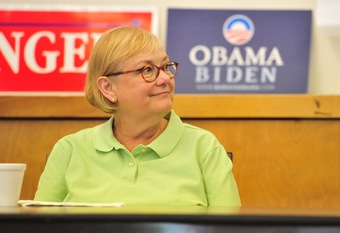 Ryan J. Stanton | AnnArbor.com
They each face an opponent with a different agenda — one not necessarily in line with the mayor and his allies on council.
In the 1st Ward, Sturgis is competing against Sumi Kailasapathy, a certified public accountant, for the open seat being vacated by Sandi Smith.
In the 4th Ward, Teall is defending her seat against Jack Eaton, a labor attorney who argues the city has its spending priorities out of whack.
In the 5th Ward, Warpehoski is facing off against Vivienne Armentrout, a former Washtenaw County commissioner, for the open seat being vacated by Carsten Hohnke.
The outcome of the Aug. 7 primary has the potential to significantly alter the political dynamic on council and determine whether the ruling council majority continues to have the power to push ahead with projects like the proposed Fuller Road Station.
More differences between the candidates came out on Saturday as debate moderator Mike Henry, co-chair of the Democratic Party, asked about their personal styles.
Kailasapathy said she'd bring a healthy sense of skepticism to city government, which she doesn't think is open and transparent enough. Sturgis said he has trust in the city's current leadership and thinks the city goes out of its way to be transparent.
"We should be on the premise that everybody here is doing this for the right reason," he said. "I definitely think this is one of the most transparent governments in Michigan."
Ryan J. Stanton | AnnArbor.com
Sturgis pointed out, for example, that eight public meetings were held to give citizens an opportunity to give input on the 618 South Main apartments project before it was approved.
He also noted every City Council meeting is televised and replayed, and every detail of the city budget is available at city hall and online.
Kailasapathy said she still doesn't think the city puts out enough information before decisions are made. She referenced the debate over putting a hotel and conference center on the Library Lot, which came out of a public process that lasted nearly two years from 2009 into 2011 and included numerous public meetings and a city website dedicated to posting information.
"Decisions were made behind the scenes whether there was going to be a conference center or hotel," she said. "And then you put that out and ask the people, 'Do you want a conference center?' That's not transparency. That is not public debate."
Teall took issue with Kailasapathy on that point.
"There's a great deal of transparency on City Council," she said. "The process for the Library Lot was very open and transparent, and I don't know how many times I can say that and people will still say that it wasn't. But there were public meetings throughout this process.
"There were no closed meetings about it. It was all open."
Ryan J. Stanton | AnnArbor.com
Teall said she thinks the city is much more transparent now than when she started on council a decade ago. She said neighborhood meetings that developers are required to hold now as part of the development process have been very successful.
Henry asked Teall why she thinks there's a perception among some residents that there's a lack of transparency then. Teall responded bluntly: "I think it serves their interests."
Armentrout said if the city is going to choose to involve the public, it should take into account what the public has to say, and she's not sure that happens all the time.
"I think the City Council has moved in recent years really quite commendably to an effort toward the appearance of transparency by making information much more freely available, which I really appreciate," she said.
"In the case of the conference center, it was really nice that they established a website, all of the proposals were put on the website, and there were open meetings," she added. "However, the opinions of the public were actually never solicited."
Warpehoski said one of the challenges the city has in the age of information is the "drinking from a fire hose" effect where a tremendous amount of information is available now. But he thinks the city needs to make sure it's effectively disseminating that information.
"What I've found serving on, for example, the district advisory committee for the AATA is that very few people are up for reading the 180-page document," he said.
In terms of making tough decisions, Warpehoski said the city needs to solicit public feedback as well as as expert opinions and analyses.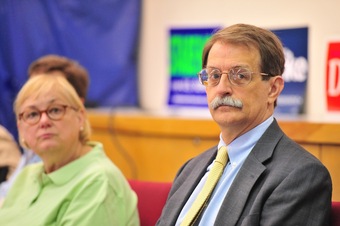 Ryan J. Stanton | AnnArbor.com
In his role as director of the Interfaith Council for Peach and Justice, Warpehoski said he often has to deal with differences of opinion and that takes deep listening. He said he actively works to create a culture of trust and openness and he'd do the same on council.
"One of the ground rules we often set is assume good intent," he said. "Everybody at this table, myself included, we're here because we have a vision for Ann Arbor and we want to serve. This isn't a position for power and glory. This is a position of service.
"Even though we might disagree, we're all coming together to serve our community and having that trust and good intent helps to establish that culture of trust."
Teall thinks the council already does a good job in that regard.
"On the whole, we work things through pretty well, and I think our mayor really facilitates that very well on council," she said. "I think there's a perception of a lot of bickering, but I don't think we bicker so much as what might be demonstrated in the media."
Armentrout said she's served on a lot of committees over the years and she believes in expressing mutual respect to all members of a group.
"I believe in making decisions based on data and on the merits of the case and then arguing politely what the case is," she said. "I'm very process-oriented."
Eaton agreed the City Council actually does work well together, pointing out most votes are unanimous or nearly unanimous.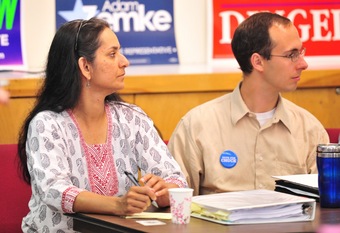 Ryan J. Stanton | AnnArbor.com
But he said debate and dissent should be welcome.
"It's important for council to have a robust discussion in front of the electorate on issues of great importance, such as spending priorities," he said.
Eaton said that isn't happening enough.
"I believe there is a majority on council that comes to meetings with a pre-determined outcome and so the discussion that happens is too late," he said. "The public hearing that happens is too late, because the decision has been made."
Sturgis said he wouldn't want to come to meetings with his mind made up or ever be indebted to anyone.
"I want to listen to what people say. I've offered to do once-a-month community meetings, going out, reaching out," he said.
He recalled his time working on the Rochester Historical Commission where there were six Republicans and himself, the lone Democrat. He said he was elected treasurer over a Republican because of his ability to bring sides together.
Derezinski recalled a recent conversation he had with Mike Anglin, a council member with whom he doesn't always agree.
"He said, 'You know, Tony, what you bring to council is civility.' That's a very important thing to me because that's what makes it functional," Derezinski said.
"Respecting each other. Never taking away somebody's dignity when you disagree with them. And then giving value to everybody's different points of view."
Derezinski recalled his time as a state senator in the 1970s when the Michigan Legislature was controlled by Democrats and Republican Bill Milliken was governor.
"We did a lot of good work at that time. We passed the Open Meetings Act, the Freedom of Information Act," he said, stressing it took compromise.
Continuing on the topic of transparency, Derezinski said the city puts loads of information on the city website for anyone to download.
"The city has a tremendous website," he said. "You can track every project that comes before the Planning Commission or the planning department."
Petersen said the city needs an ethics policy dealing with issues like conflicts of interest to help guide council members in their decision-making.
"It's easy to say we'll all just collaborate and get along together, but the reality is it's a lot more difficult than that," she said. "Having the guidelines would instill trust in the government."
VIDEO: Closing statements from Saturday's Ann Arbor City Council candidate forum
Ryan J. Stanton covers government and politics for AnnArbor.com. Reach him at ryanstanton@annarbor.com or 734-623-2529. You also can follow him on Twitter or subscribe to AnnArbor.com's email newsletters.