Top cop: City Council confirms appointment of John Seto as Ann Arbor's new police chief
Posted on Tue, Jul 17, 2012 : 5:58 a.m.
The Ann Arbor City Council enthusiastically confirmed the appointment of John Seto as the city's new police chief Monday night.
The vote came 10-0 with Christopher Taylor absent.
Seto now officially oversees both the police and fire departments as the city's safety services administrator. He had filled the position on an interim basis since April 1.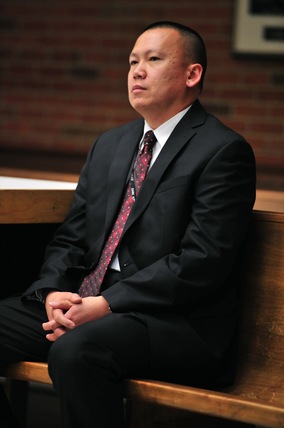 Ryan J. Stanton | AnnArbor.com
"I've had an opportunity to work with a few police chiefs, very good police chiefs," said Mayor
John Hieftje
. "I know what it takes to make a fine police chief. And whatever it is, John Seto has it ... and I just think he's the right man for the job."
Other council members took turns singing the praises of Seto, who has worked for the Ann Arbor Police Department more than two decades. He started as a patrol officer in 1990 and is believed to be the first police chief in decades to organically rise up through the department's ranks, as opposed to the city appointing a chief externally.
"Working with John over the past couple of years has been a real delight and he has really stepped up for a lot of our residents and makes personal contact," said Council Member Marcia Higgins, D-4th Ward.
"I also am very pleased to see that we are promoting someone to police chief from within our department and I think we should all be very proud of that."
The decision to appoint Seto was made by City Administrator Steve Powers after reviewing multiple applications for the position. Seto replaced former Police Chief Barnett Jones, who retired from the city at the end of March and then took a job in Flint.
"Since his appointment in April as interim chief, he very quickly and smoothly transitioned into the position and he certainly demonstrated quite clearly that he is the right person for the job," said Council Member Jane Lumm, an Independent from the 2nd Ward. "He has continued to earn increasing respect of all constituencies, including folks in the community."
Seto humbly thanked council members for confirming his appointment.
"Throughout my entire career, I've worked very hard to represent this organization and this city in the most professional manner with everyone I meet — with great respect — and I will continue to do that in this new position," he said. "Thank you for this opportunity."
Seto stressed that he's proud to be associated with both the police and fire departments that serve the city of Ann Arbor.
"For the past 22 years, I've had the great privilege of working with the superb group of men and women in safety services, both the police and fire departments," he said. "I've witnessed firsthand their hard work, I've witnessed firsthand their dedication, and I've witnessed firsthand the sacrifices that they've made to serve and protect this great community."
The safety services administrator is responsible for the administrative supervision and leadership of police services, fire services and emergency management, with a combined budget of $39 million and 228 employees. Seto will report to Powers.
Seto's new annual salary will be $123,000. His base salary as deputy chief was $108,264, though records show he actually made $116,462 in total wages last year.
Jones had a base salary of $126,500 and made $137,632 in total wages last year. According to records provided by the city last week in response to a Freedom of Information Act request, Jones received a $59,660 severance payout when he left the city.