Posted on
Fri, Nov 13, 2009 : 6 p.m.
City evaluating six proposals for development of Library Lot in downtown Ann Arbor
By Ryan J. Stanton
Six groups beat a Friday afternoon deadline to submit proposals for development of the Library Lot in downtown Ann Arbor.
City Administrator Roger Fraser said the proposals will be opened and analyzed Monday morning.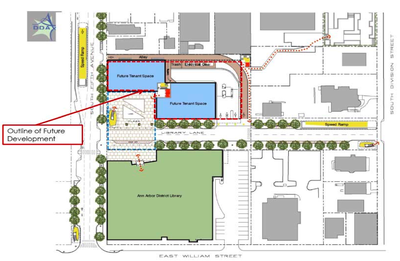 The six groups that turned in proposals include the following, but exact details aren't yet known:
• Valiant Partners LLC, a group of investors who previously made known their intentions to propose a large-scale hotel and conference center plan.
The group includes Bruce Zenkel, an investment banker and developer from New York, and Michael Mailkin, an attorney from New York. They are being represented locally by Ann Arbor business consultant Fritz Seyferth and attorney Bruce Elliott, both former University of Michigan football players who played under coach Bo Schembechler from 1969-71.
• Campus Inn owner Dennis Dahlmann's company, Dahlmann Properties, which owns and manages several major hotels in the Midwest.
• Jarratt Architecture, a Metro Detroit design firm that's been involved in several large hotel projects in the Midwest. The Ann Arbor Country Club and the Sheraton Ann Arbor are included in its portfolio.
• The Beztak Companies, a Farmington Hills-based company that has developed high-end apartment communities in Michigan, Arizona, Florida and North Carolina, including Briar Cove in Ann Arbor.
• Acquest Realty Advisors Inc., a Bloomfield Hills real estate company whose list of clients includes, among many, the Hilton Hotel Corp.
• Ann Arbor Committee for the Commons, a grassroots group of citizens who prefer to see the site remain a public commons area. The group is headed up by Ann Arbor resident Alan Haber.
Dee Lumpkin, the city's procurement assistant, said an evaluation committee will review the proposals and schedule interviews the week of Dec. 7. The evaluation committee is expected to recommend a proposal to the Ann Arbor City Council during the week of Jan. 15.
Lumpkin said she didn't think copies of the proposals could be released while under review. A Freedom of Information Act request by AnnArbor.com for copies of the proposals is under review by the City Attorney's Office and the city's FOIA coordinator.
The city owns the land on South Fifth Avenue, on which the Downtown Development Authority is currently building an underground parking structure. The city hopes to see new development atop.
Attempts by AnnArbor.com on Friday to reach developers and community members who submitted proposals were unsuccessful.
The only people who could have submitted proposals were those who attended a mandatory pre-proposal meeting at city hall in late September. A total of 43 people penned their names on the sign-in sheet at that meeting.
Susan Pollay, DDA executive director, said she had no new information on the proposals submitted Friday. She said it's her understanding the proposals were requested in electronic format and may be posted online.
"I'm just excited in this community," Pollay said. "We have some fabulous developers and we are working very hard to prepare the site. The project that the DDA is doing is enormously important - we're bringing the utilities and really setting the stage for something great."
Ryan J. Stanton covers government for AnnArbor.com. Reach him at ryanstanton@annarbor.com or 734-623-2529.