Posted on
Tue, Nov 29, 2011 : 5:59 a.m.
Changes to Ann Arbor's investment policy intended to make city's portfolio less reactive to market
By Ryan J. Stanton
The city of Ann Arbor has watched its financial return on investments steadily shrink ever since the economy went south in 2008, but city officials still see the silver lining.
"Over the course of the entire economic downturn, we didn't lose one cent of principal," said Matt Horning, the city's treasurer for the past six years.
A resolution to revise the city's investment policy and give the city some new options for investing awaits the Ann Arbor City Council's approval next week.
The changes are intended to allow the city to structure its portfolio to be less reactive to market volatility and improve yields, while adding new restrictions to ensure diversification.
The city has $229 million tied up in investments. Through Sept. 30, the city saw a 1.81 percent return, according to a third-quarter investment portfolio report.
That's down from 2.22 percent in calendar year 2010, 3.1 percent in 2009, and 3.87 percent in 2008, according to year-end reports reviewed by AnnArbor.com.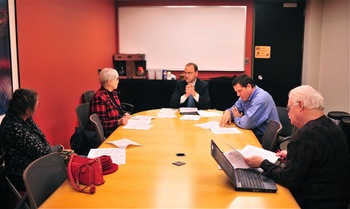 Ryan J. Stanton | AnnArbor.com
Horning offered an overview of the proposed investment policy revisions Monday night during a special meeting of the council's budget committee.
Present for the discussion were Tom Crawford, the city's chief financial officer, and Council Members Sabra Briere, Mike Anglin and Marcia Higgins.
The city manages a flexible investment portfolio that includes general operating funds, bond reserve funds, proceeds from bond sales and various other funds.
Horning clarified that the investment policy applies to all cash and securities of the city except assets of the Pension Fund, Housing Commission, 15th District Court, Elizabeth Dean Fund, Downtown Development Authority and Contractor's Retainage Fund, which are managed separately and are not included in the $229 million previously mentioned.
Horning said the changes have been reviewed and approved by Cutwater Assent Management, the city's investment advisor, formerly known as MBIA.
"We've had an investment policy for years and years," Horning said. "Every few years, just as a matter of due diligence, we review it. It's kind of an ongoing process actually."
The city's investments consist of $91 million in U.S. Treasury Obligations, $98 million in Federal Instrumentality Securities, and $40 million reported as cash and equivalents.
"Our investment strategy is to ladder our investments," Horning said. "So right now, our maximum maturity horizon is seven years. And by laddering, what we do is we buy bonds at roughly one-month intervals out over that entire seven-year period."
By having a laddered portfolio, Horning said, the city is able to mitigate the volatility in interest rates, which can repeatedly rise and fall — sometimes sharply — over time.
"We kind of lock in an average interest rate," he said. "So as we continue buying, the rates for the city will change, but we're not going to have the ups and downs in the market."
Horning said the city's current investment policy has been in place since 2007. After reviewing it with the city's investment advisor and various members of the Investment Policy Committee of the Association of Public Treasurers of the United States and Canada, some modifications are recommended, including increasing the maximum maturity horizons.
The following changes to maximum maturity horizons are proposed:
U.S. Treasury Obligations extended from 7 to 15 years
Federal Agency Securities extended from 7 to 10 years
Federal Instrumentality Securities extended from 7 to 10 years
Certificates of Deposit extended from 3 to 5 years
Obligations of the State of Michigan extended from 3 to 10 years
And the following portfolio restrictions are proposed:
Federal Instrumentality Securities limited from no restriction to a maximum of 65% of the portfolio and maximum of 30% in any one issuer
Certificates of Deposit limited from no restriction to a maximum of 5% of the portfolio in any one issuer
Obligations of the State of Michigan limited from no restriction to a maximum of 3% of the portfolio in any one issuer
Prime Commercial Paper limited from a maximum of 50% of the portfolio to a maximum of 25% of the portfolio
No more than 25% of the portfolio may be invested in securities with maturities exceeding seven years
No more than 12.5% of the portfolio may be invested in securities with maturities exceeding eleven years
Maximum weighted average final maturity increased from 3.5 to 6.5 years
"We're basically saying we can go out a little farther, but we can only have a certain defined amount of the portfolio that's extended that far," Horning said.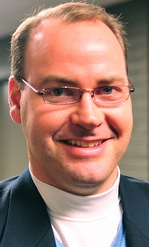 But why extend the maturity horizons?
"The farther out you go into the future, the higher interest rate you can achieve," Horning said, adding he has no intention of immediately buying long-term securities.
"Right now, a 15-year T-note is earning about 2 percent," he said. "It would do the city no good to put money out 15 years at 2 percent. What I'm trying to do is position us so that when rates do increase, and we see the long end of the yield curve bump up to its historical levels where you might be earning 8, 9 or 10 percent, then it would be a good idea."
The first goal of the investment policy, Horning said, is safety and making sure the city's capital is preserved and principal is protected. The second goal is liquidity, he said.
"We want to make sure that the coupon payments from bonds that we purchase and the maturities of those securities coincide as closely as possible to our cash flow needs in the future," he said. "That way we can pay our bills, we can make our payroll, and we can achieve a higher yield by buying securities that go farther into the future."
Because those funds might be required at any time, Horning said, it's essential that the city maintain strict maturity horizons for the purpose of liquidity control.
"They don't allow the treasurer or any future treasurers to take too much money and put it out too far, because that would put our liquidity needs at risk," he said of the changes.
Horning noted the city's current investment policy was awarded a certificate of excellence from APTUSC and the revised policy still meets the same requirements for certification.
Horning said the size of the city's investment portfolio actually ranges from $185 million to $300 million at any given time depending on tax receipts and other revenue inflows.
Total city spending across all funds is $314 million this year, including $79.1 million in the general fund, which pays for basic services like police and fire protection.
Ryan J. Stanton covers government and politics for AnnArbor.com. Reach him at ryanstanton@annarbor.com or 734-623-2529. You also can follow him on Twitter or subscribe to AnnArbor.com's e-mail newsletters.