Posted on
Thu, Nov 3, 2011 : 8:30 a.m.
Sidewalk millage: Ann Arbor residents face Nov. 8 vote
By Ryan J. Stanton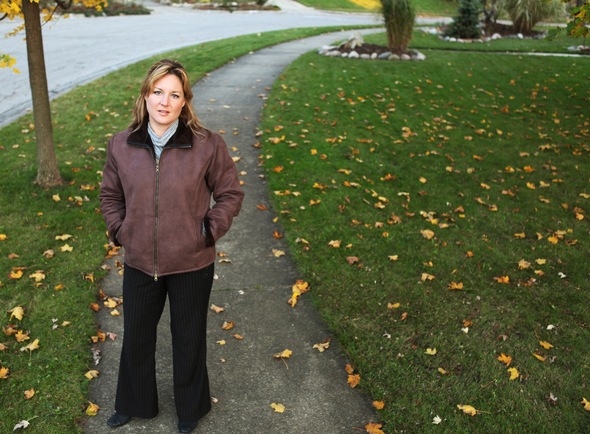 Jeff Sainlar | AnnArbor.com
(Editor's note: This story has been revised to correct the amount of the repair bill for sewer tile work on Vance's property, which was $16,000.)
Shortly after Lisa Vance and her husband moved into a house in Ann Arbor's Dicken Woods neighborhood in late 2003, the underground sewer tile on their property collapsed.
The repair bill: $16,000.
A couple of years later, Vance said, the city came knocking and issued an order requiring them to fix the crumbling sidewalks adjacent to their property. After begrudgingly replacing 11 slabs, they were on the hook for another $1,400-plus in unexpected costs.
"If it wasn't for a contractor taking a shine to us, trusting us, and putting us on a payment plan, we wouldn't have been able to do it," said Vance, who still regrets she wasn't able to put that money into renovations to her 1956-era kitchen and bathroom.
As the city of Ann Arbor asks voters on Tuesday to approve a tax increase to pay for future sidewalk repairs, residents like Vance stand opposed.
According to city officials, the 0.125-mill proposal on the ballot translates to $13.37 a year in new taxes for the average homeowner.
Ann Arbor's city code currently requires property owners to maintain the sidewalks adjacent to their properties. With the $560,000-plus a year the sidewalk millage could raise, city officials propose shifting that responsibility away from individual property owners to the city.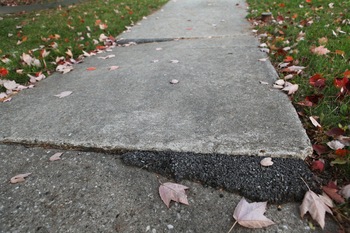 Jeff Sainlar | AnnArbor.com
But now that a large number residents have been forced to fix their sidewalks — 47,000 slabs throughout the city from 2005 to 2011, to be exact — Vance and others argue a sidewalk millage no longer seems fair to those who've already shelled out big bucks.
Vance sees it as a double tax.
"It's not the $13. It's the principle of the matter," she said, noting many of her neighbors had to pay to replace sidewalk slabs. "We are not happy in our neighborhood about this."
But city officials argue now is the perfect time to put the question before voters, following completion of a five-year sidewalk inspection program.
In 2005, the city began an aggressive program of inspection and enforcement in order to bring all sidewalks up to a uniform level of quality and safety.
Over the course of five years, one-fifth of the city's sidewalks were inspected each year, and homeowners with faulty sidewalks were ordered to pay to fix them.
That program is now complete and the city's inspectors have combed through every neighborhood in the city. City officials stress that all faulty sidewalks either have been repaired or — in the case of those that aren't yet fixed — the city will complete the needed repairs by the end of 2011 and assess the costs to the property owners who failed to comply.
City officials point out the sidewalk millage offers residents a chance to finally shift away from an admittedly unpopular program that's placed a heavy burden on individuals. City officials contend sidewalks are a public good used by all, and so spreading out the maintenance costs across all property owners is a more fair and reasonable approach.
"Going forward, we will continue having bad sidewalks throughout the city, and if the city assumes the responsibility and pays for the replacement, there will be future savings for homeowners," said Homayoon Pirooz, head of the city's project management unit.
Pirooz believes the $13 a year the average resident would pay — about one-tenth the cost of a single slab — is a good insurance policy against the potentially larger costs. He said that's a good deal for all residents, whether they've already paid for repairs or not.
"If the sidewalk millage is not approved, then it will be the status quo," he said. "The property owners will continue being responsible for the sidewalks and we will continue working with the homeowners, asking them to replace their sidewalks when they go bad."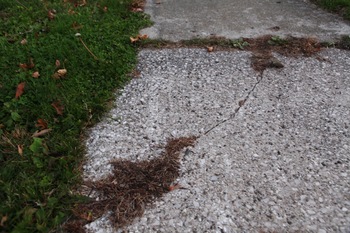 Jeff Sainlar | AnnArbor.com
The
Ann Arbor City Council
voted unanimously to place the sidewalk millage on the Nov. 8 ballot alongside
the city's street repair millage
.
Voters are being asked on Tuesday to renew the 2-mill street millage for another five years and layer on an additional 0.125 mills for sidewalk repairs. The existing street millage amounts to about $214 a year in taxes for the average homeowner.
Most city officials seem confident the 2-mill tax, which brings in about $9.1 million a year and is essential to paying for streets and bridges in Ann Arbor, will be renewed.
But there's less certainty surrounding the sidewalk millage, and even Pirooz is hesitant to offer a prediction as to how the vote might go.
"It seems like almost everyone is behind the street millage," he said. "For the sidewalk millage, it's hard to tell because it's a new program, and people have questions."
In a recent online survey conducted by the city, 61.7 percent of respondents said they had to repair or replace sidewalks adjacent to their property sometime in the last six years. More than 600 people took the survey, only 38 of whom indicated they weren't city residents.
When asked if they would prefer if the city were responsible for repairing sidewalks instead of property owners, 32.9 percent agreed and another 37.8 percent strongly agreed, while only 7.8 percent disagreed and 13.3 percent strongly disagreed; 8.2 percent were neutral.
Asked more specifically whether they'd agree to pay an additional 0.125-mill tax to fund a city sidewalk repair program, 30.2 percent agreed and 29.5 percent strongly agreed, while 10 percent disagreed and 23.3 percent strongly disagreed; 6.9 percent were neutral.
Sharon Burzan, who lives near Vance on Palomar Drive, said the sidewalk millage has been a hot topic of discussion in her neighborhood.
"This is really sort of a salt-in-the-wound thing, because most of us have already had to put out to fix our sidewalks," she said. "That caused a lot of hardship for a lot of people."
Burzan said many of her neighbors have been double-hit like Vance, having the same sewer tile problem before getting an order from the city to pay for sidewalk repairs. She said she and her husband had to pay close to $500 to repair four or five slabs.
"It's like shutting the door after the horse goes out," she said of the sidewalk millage. "I think most people are greatly alarmed and extremely dissatisfied with even thinking about a tax increase when the city should have been picking up the bill for those sidewalks to begin with."
Vance agreed and said she would have supported a sidewalk millage before, but not now. She said she lobbied for a sidewalk millage about five years ago.
"We sent letters to the city that went unanswered then," she said. "I think the city has made an egregious error here, and now they're trying to backtrack and fix it."
Ryan J. Stanton covers government and politics for AnnArbor.com. Reach him at ryanstanton@annarbor.com or 734-623-2529. You also can follow him on Twitter or subscribe to AnnArbor.com's e-mail newsletters.