Posted on
Thu, Jul 18, 2013 : 12:20 p.m.
City of Ann Arbor working to restore health care benefits for same-sex partners
By Ryan J. Stanton
The city of Ann Arbor is working to restore domestic partner benefits for city employees after a recent court ruling striking down the state's ban.
The City Council's labor committee met earlier this week, and on the agenda was restoring health care benefits for "other qualified adults," including gay and lesbian partners of city employees.
"Given the city's past support for domestic partner benefits, I expect expeditious movement to restore the benefits through the collective bargaining process," said City Administrator
Steve Powers
.
Powers said the process will include memorandums of understanding, not reopening contracts, and when that happens will depend on the availability of the unions' negotiators.
Lisa Dusseau, whose partner Kathleen Summersgill has worked for the Ann Arbor Fire Department for 21 years, said she's hoping the benefits will be restored soon.
U.S. District Judge David Lawson declared the state's ban on domestic partner benefits for public employees unconstitutional in late June.
"To date, though, nothing has changed for Ann Arbor city employees," Dusseau said. "I don't think it's fair that this discriminatory situation is allowed to continue."
The ban, which affected local governments and schools, was approved in 2011 by Republican Gov. Rick Snyder and the Republican-led Michigan Legislature. They called it a matter of fiscal responsibility and said taking away the benefits would help address spiraling health care costs.
Dusseau spoke at Monday night's City Council meeting and urged city officials to work with their attorneys to immediately remedy the situation so Ann Arbor can retain its "stellar reputation of being the city that embraces equality and nondiscrimination for all of its residents and employees."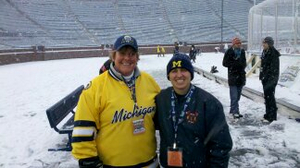 Courtesy photo
Dusseau said she and Summersgill have been together for 19 years, they enjoy their lives together and have a deeply committed relationship.
"We share a house and finances, everything a married couple commonly would. However, there is one thing my partner cannot share with me and that is her health insurance," she said.
Dusseau said her current employer does not offer health insurance that meets her needs, so she was forced to find insurance on her own. But she recently found out one of her medications is not covered under her policy, she said, and a 90-day supply costs more than $1,000.
Dusseau noted there was a nine-month period in 2009 when she was unemployed and she was covered under her partner's insurance through the city, and for that she was grateful.
Council Member Chuck Warpehoski, D-5th Ward, said the issues of equality that Dusseau raised are close to his heart.
"It was bad news when the state Legislature took away our ability to provide benefits for same-sex partners and good news when the courts gave that back," he said. "So my understanding is that there are efforts to address that going on ... and I'm sure we all feel the sooner the better there."
Up until the state ban took effect, the city for many years offered domestic partner benefits as long as the employee and "other qualified adult" lived together for 18 months. At the time the ban was approved in late 2011, 12 people were receiving such coverage from the city.
Ryan J. Stanton covers government and politics for AnnArbor.com. Reach him at ryanstanton@annarbor.com or 734-623-2529. You also can follow him on Twitter or subscribe to AnnArbor.com's email newsletters.