Posted on
Tue, Feb 2, 2010 : 6:01 a.m.
City officials, artists share concerns that Ann Arbor may be losing its cultural vitality
By Ryan J. Stanton
Beneath the layers of discussion inside city hall Monday night was a shared sense that Ann Arbor is starting to lose some of its cultural luster.
The lack of affordable studio space for artists and the seeming absence of a primary exhibit space were concerns shared by several who addressed the Ann Arbor City Council.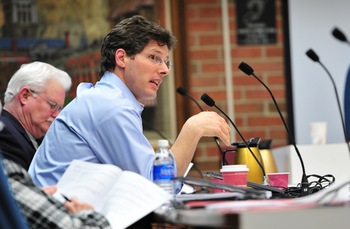 Ryan J. Stanton | AnnArbor.com
Local conservationists and members of Ann Arbor's arts community made it clear to city officials they're in full support of efforts to explore a reuse of 415 W. Washington as a greenway park and arts center.
"We have a justifiable concern that we are losing our cultural vitality in Ann Arbor," said Tamara Real, president of the Arts Alliance.
"Artists, particularly our young artists, can't afford to live and work here and are moving out of our community," she said. "Arts organizations like the Ann Arbor Comic Opera have moved to Canton to perform ... because we don't have a performance facility that's appropriate."
After hearing positive comments from several members of the public, the City Council voted unanimously in favor of a resolution calling for the "creation of an innovative process of community collaboration" to explore those options.
The resolution calls for bringing together the creative energy of the Allen Creek Greenway Conservancy and the Arts Alliance, along with other potential partners in the community. They are asked to make recommendations to the City Council in February 2011.
"This is a beginning point," said Mayor John Hieftje, who co-sponsored the resolution with Council Members Carsten Hohnke, D-5th Ward, and Margie Teall, D-4th Ward.
"I think an innovative process is what is called for," Hieftje said. "If you look around the state of Michigan, you are hard-pressed to find a city that is not going through the same gyrations with its budget that the city of Ann Arbor is and many are in much worse shape. So I think we are in a time - and we're going to be in a time for the next few years - where we do need to come up with creative ways to move forward on objectives that the community has long held."
Real said her group believes the 415 W. Washington site has "enormous potential."
"I can tell you that there is a great need in our community for a community cultural facility - arts facility," she said. "In 2005, the Arts Alliance did a space survey of need for artist space after the demise of the tech center, and based on the responses we got at that time, we found that we could probably fill essentially a small supermarket."
Real said an artist census conducted in 2008 netted about 1,000 responses in Ann Arbor alone.
"So, clearly the artists are here, and I know that that is an undercount," she said.
Connie Cronenwett, president of the Ann Arbor Women Artists, a 230-member group that has been active in Ann Arbor since the early 1950s, shared a similar viewpoint.
"We lack a community arts building," she said. "We need a primary exhibit space. Every year, Ann Arbor Women Artists schedules three juried shows, and we come up against this problem. There is no exhibit space in Ann Arbor that is really a primary exhibit space."
"If you are an individual artist wanting to have a one-person show in Ann Arbor, where are you going to go?" she asked.
Real said organizations such as the Peter Sparling Dance Gallery have gone out of business because they could not afford to pay Ann Arbor's high rental rates.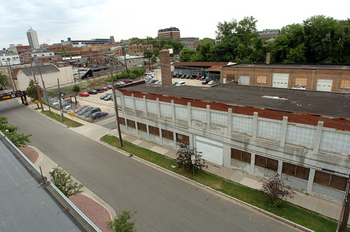 "Other cultural organizations in our community are working very hard to find ways to cut costs and share services, so I'm heartened that the city seems to recognize the arts are inextricably tied to our identity here in Ann Arbor," Real said.
Members of the Allen Creek Greenway Conservancy said they also were heartened by the city's attempts to stimulate interest in the site but said that talks of a greenway park at 415 W. Washington have been happening for years. They argued a more aggressive approach and timeline are needed than what the city has proposed.
The City Council has been debating uses for the site, an old city-owned garage on the west side of downtown Ann Arbor, since 2008.
Lou Glorie, a local real estate agent who regularly attends City Council meetings, applauded the city for its efforts Monday night.
"We really need to make Ann Arbor a more welcoming place for artists. We're losing artists. I think we're hemorrhaging them," she said. "I think what we're losing is a vitality that artists bring to a city, and for a long time many of us have been talking about how great a place 415 W. Washington would be as a space for artists."
Council Member Sabra Briere, D-1st Ward, said she has spoken with several people who share the same concerns.
"During the course of the weekend, I spoke with my artist friends who have longed for a place to perform, to create, to find studio space, to find a place to exhibit, to find a place to sell, to find some part to stay in Ann Arbor when they feel that Ann Arbor is no longer the place that it used to be for them," she said. "But I also spoke with my friends who believe in the greenway and feel that once again this is the momentum that they've needed."
Council members shared concerns the city can't afford to invest any of its own money into 415 W. Washington. Council Member Sandi Smith, D-1st Ward, pointed out the irony that the city - at its last meeting - was just talking about selling parks because it can't afford to maintain the ones it already owns.
Council Members Mike Anglin, D-5th Ward, and Stephen Kunselman, D-3rd Ward, suggested the city approach the Downtown Development Authority for funding for 415 W. Washington.
Hohnke said the city intends to seek grants.
"I think the approach of bringing the entire community together to begin exploring ways to be creative in identifying opportunities for grants that speak to historic preservation, that speak to stormwater management, that speak to renewable energy and arts and culture," Hohnke said, "is exciting and is a journey that will, I think, lead to a really significant improvement in a part of town that is now covered in asphalt and surface parking lots."
Ryan J. Stanton covers government for AnnArbor.com. Reach him at ryanstanton@annarbor.com or 734-623-2529.