Posted on
Sat, Aug 20, 2011 : 2:45 p.m.
Former Ypsilanti police officer Claude Jackson dies at age 53
By Lisa Carolin
Former local police officer Claude Jackson passed away on Thursday at the age of 53.
Jackson, who was born in St. Louis, Mo., in 1958, was a 1981 graduate of Eastern Michigan University with a B.S. in Criminal Justice.
He worked with EMU Public Safety, Pittsfield Township, the city of Ypsilanti and Washtenaw County, and later as a development officer for Hope Medical Clinic and Wayne State University.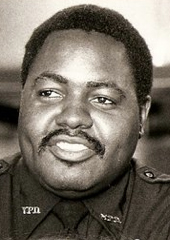 Jackson is survived by his wife of almost 34 years,
Emma (Brown) Jackson
, and their four children Ettienne (David) Hand, James, Brianna and Bryce. Emma Jackson is the public relations director for Ypsilanti Public Schools and a former newspaper reporter.
"Claude was a man of faith and committed to his family," Emma Jackson said. "Whatever he pursued he did with excellence."
Emma Jackson said that her husband was known for his smile and his humor, which is one of the things that first attracted her to him when they met as students at EMU.
"He was so friendly and caring and genuine," said Jackson. "Our family was remembering him yesterday, and we talked about the many instances of mercy that he extended to people. Like the story of the young woman who had been assaulted while he was on duty. He brought her to our home to make sure she was in a safe place. Claude didn't like to see people suffer. He had a soft spot for the downtrodden."
His wife said that he was both a great storyteller and someone who offered wisdom to people.
Jackson is also survived by two sisters, Ruth and Josandra; three brothers, Edward , Theron, and Lucien, and several aunts, uncles, nieces and nephews.
He was preceded in death by his father, Claude, his mother, Beverly, and his brother Fulton.
There will be a memorial service Saturday, Aug. 27 at 1 p.m. with a family visitation from 11 a.m.-1 p.m. at Crossroads Community Baptist Church, 2580 Packard Road in Ann Arbor. In lieu of flowers, donations can be sent to Hope Medical Clinic, P.O. Box 980311 ,Ypsilanti, MI 48198-0311.