Posted on
Tue, Jan 3, 2012 : 5:57 a.m.
Use of electronic clickers becoming more popular in college lecture halls
By Kellie Woodhouse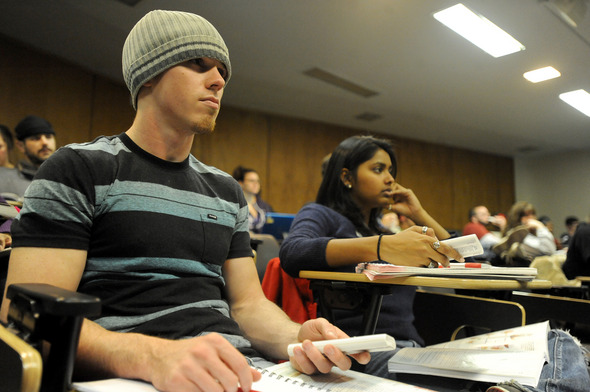 Angela J. Cesere | AnnArbor.com
Technology is continuing to transform the college classroom.
In the second decade of the 21st century, computers have become more commonplace for note-taking than actual notebooks and professors who use blackboards over PowerPoint are nearly extinct.
Outside of classrooms, hundreds of students can be found huddled in Ann Arbor or Ypsilanti coffee shops studying their electronic textbook while using the latest edition of the most popular e-reader.
"There's all kinds of way-cool technology that we try to keep up with," Eastern Michigan University President Susan Martin said in an interview.
Adding to this change in the academic landscape is the recent surge of the 'clicker,' an electronic voting device that resembles a basic remote control and is widely being embraced by universities as a way to encourage interaction in classes.
During the fall semester at EMU, the devices became so popular that the school bookstore ran out of stock and had to order a second wave of them.
"At first it was very annoying," EMU senior Ryan Johnson said of the clickers, which he's used in two classes. He had to foot the bill for his clicker; new versions cost between $33 and $46.
But after using the device, Johnson said class became a loose game of Jeopardy. Lectures became more entertaining and he had an incentive to pay attention.
"It helps increase people's willingness to pay attention," the philosophy and accounting major said. "It takes class from a lecture thing where you're just taking notes to an interactive experience."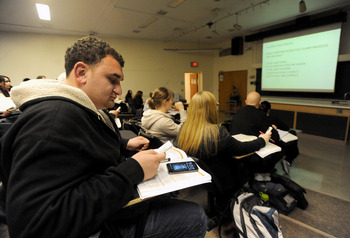 Angela J. Cesere | AnnArbor.com
At the University of Michigan, 14,698 students in 41 classes used clickers in the College of Literature, Science and Arts during the recently completed fall semester alone. That's up about 1,300 from last year. LSA has been using clickers since 2007.
The clickers, according to EMU biology professor Anne Casper, have the most value in their flexibility. They can be used to monitor attendance, conduct paperless pop quizes, review for an exam or poll students' opinions regarding a class debate. Professors can give bonus points for correct answers or make answering compulsory and part of a student's participation grade.
Casper says clicker use counts for about 10 percent of a pupil's grade in her introduction to biology class, where points are acquired only when student answers correctly.
"On student evaluations students... will, unprompted, tell me clickers got me to class," Casper said, explaining that the biology department has seen an uptick in class attendance since it first began using the devices five years ago. "The clickers might be the thing that pushes you over the edge to go on in."
In large classes, which at EMU typically don't exceed 250 students, attendance and student engagement usually flags as the semester wears on.
The clickers, however, provide an incentive for consistent engagement, according to EMU anatomy professor Michael Kielb, who said he's seen an improvement in his students' grades since he began using the clickers.
"They pay attention to what's going on," he said. "They might actually read the materials they're supposed to read ahead of time with the fear of, 'Oh my gosh, he might actually ask a question.'"
Clickers also give faculty instant feedback on how well they're teaching new information and how much students are absorbing it.
"It gives them instantaneous feedback on how they're actually doing at teaching," said Johnson.
At U-M, clickers are also used outside of the classroom on prospective student tours, student orientation and at the occasional regents meeting, says Monika R. Dressler, director of LSA Instructional Support Services.
Kellie Woodhouse covers higher education for AnnArbor.com. Reach her at kelliewoodhouse@annarbor.com or 734-623-4602 and follow her on twitter.