Posted on
Thu, May 24, 2012 : 5:58 a.m.
'Digital Divas' at EMU: Leaders encourage girls to seek careers in cyber security
By Katrease Stafford
Editor's note: This story has been updated to include Debbie Dingell's professional titles.
Nearly 300 area middle and high school girls participated in Eastern Michigan University's cyber security workshop Wednesday, which was created in hopes of developing interest in information assurance and cyber security fields.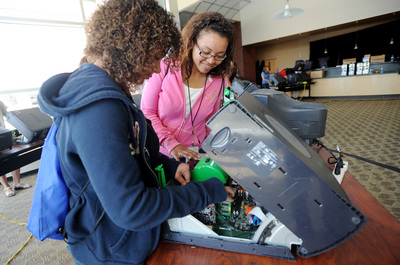 Melanie Maxwell | AnnArbor.com
The event, entitled "Cyber Security in the 21st Century—Digital Divas," addressed the issue of attracting young women to the field and helping them understand the appeal, challenge and relevance of the career in today's society.
Students participated in breakout sessions featuring expert speakers from General Electric, Google and current EMU and Michigan State University information assurance and computer science majors. They discussed topics such as animation, cyber bullying, and sexting and stalking.
Out of every 100 people in cyber security and information assurance fields, only 12 are women -- a startling statistic that cannot be ignored, said Debbie Dingell, president of D2 Strategies, chair of the Manufacturing Initiative of the American Automotive Policy Council and wife of Congressman John Dingell.
"There is a real gap and we have to close it," Dingell said. "It is sitting there for you as a field. Learn it and your future will be assured."
EMU information technology professor Gerald "Skip" Lawver said the typical graduate from one of those majors can, on average, make between $50,000 and $75,000 in an entry level job.
"We needed to expose young ladies to careers in information assurance and cyber security," Lawver said. "If not, we're just not going to make it as a country."
This April, EMU's information assurance program graduated about 20 graduate students and about 30 undergraduate students. Currently, the program has 378 undergraduates enrolled and the university expects that number to increase to more than 400 by the fall semester.
In addition to undergraduate students, the program has 70 graduate students and 24 Ph.D. candidates.
Dingell said the world is constantly evolving in terms of technology, and today's generation is in the right place to capitalize upon it.
"For me, an application was for employment and a keyboard was a piano," Dingell said. "...You are so much luckier and smarter than people my age. It's a gift and a talent. Today is to partially expose you to what those opportunities are."
Dingell said many young people coming out of college this year cannot find jobs but opportunities abound in the technology field for those who earned degrees in STEM — science, technology, engineering and mathematics — related majors.
"Can you imagine what it would be like if someone shut off the electricity in Michigan?" Dingell asked. "That's what we're talking about here. A cyber terrorist could come in and shut this country down… Threats like this are growing every single day. We need your talent."
Pamela K. Kelley, from the National Security Agency, said the country needs more students going into STEM fields.
"This is what our country needs," Kelley said. "I've heard about the industry in Detroit looking for people."
Kelley said there are more than one million computer viruses that her agency is constantly looking out for.
"The average cost associated with an attack is $2 million," Kelley said. "Every day, approximately 89.4 billion unsolicited messages are sent by computers that have been compromised by some way or shape. These are not made up, these are real statistics. This is where you want to be."
Kelley said as the number of cyber attacks taking place continues to grow, so does the need for more people going into the field.
"We need a core of people to be our cyber defenders," Kelley said. "A lot of government agencies have programs designed for students to get their feet wet."
Dingell explained to students the importance of being careful with what personal information is displayed on the Internet and how it could hinder future job prospects or in some cases, result in job termination. As an example, Dingell shared a story of someone she knew from Chrysler that was fired because of what he posted on a social media site.
"We want to reinforce that there are consequences," she said. "Be civil. Even if you don't like someone, treat people the way you want to be treated, don't be a bully."