Posted on
Thu, Aug 5, 2010 : 6:03 a.m.
Ann Arbor residents, businesses cope with shutdown of Fifth Avenue at Liberty Street
By Heather Lockwood
Melanie Maxwell | AnnArbor.com
Wednesday marked the start of at least a yearlong closure of the 300 block of Fifth Avenue between Liberty and William streets in downtown Ann Arbor due to the South Fifth Avenue underground parking structure project.
Tony Putman and his wife Lisa Putman felt the effects of the road closure Wednesday afternoon while running errands, including to the Ann Arbor District Library.
"Basically it's a pain in the neck — you cope. It's just part of a large number of construction projects," said Tony Putman, of Ann Arbor. "We encountered about four different (construction projects) that are slowing traffic down and bringing traffic to a stop."
Lisa Putnam said the temporary inconvenience will be worth the end reward.
"I totally support the underground parking project," she said.
Calvin Lewis, supervisor at the Liberty Station Post Office, said while it is too soon to tell to what extent the road closure will affect business, he anticipates it will have some effect.
"Everybody is a little apprehensive about the length of time it's gonna be closed," Lewis said. "As far as business is concerned, revenue, it's going to take away from that."
Lewis added, "The city did put six spaces out front ... for customer convenience, which will help offset taking away the spots on the side of the building."
According to the Washtenaw Area Transportation Study, about 8,841 vehicles travel Fifth Avenue between Liberty and William streets per day.
Susan Pollay, executive director of the Ann Arbor Downtown Development Authority, said "a lot of planning" has been done to help lessen the impact of the road closure on businesses and services.
Pollay said the aim is to reopen the road in "early fall 2011."
"It's thinking about all of the ways we, as a community, use that block and accommodating those uses," Pollay said.
Pollay added the DDA has been "talking to (affected business owners) from the beginning," and two signs have been posted on Fifth Avenue to let the public know about the upcoming road closure.
"We're very concerned about them, very aware of the fragility of these businesses," she said. "We've been meeting with them. ... We're in their restaurants all the time."
Ann Arbor Transportation Authority buses have also been affected by the closure. Three bus boarding locations at the Blake Transit Center were relocated, and as a result, "routes 1, 15 and 18 will board passengers along the west side of Fourth Avenue just north of William Street next to the Fourth and William parking structure," the AATA said in a release.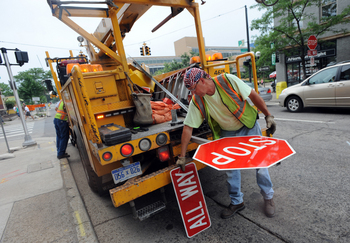 Melanie Maxwell | AnnArbor.com
Ali Ramlawi, owner of Jerusalem Garden, expects the next year to be a difficult one.
"We anticipate loss. We anticipate going into the red," Ramlawi said. "When you lose 20 to 30 percent of your business, you lose 40 to 60 percent of your profits."
Ramlawi said it's the duration of the road closure that has him most worried. Motorists can no longer access parking and post office drop boxes on the east side of the Federal Building at Fifth Avenue and Liberty Street, but several temporary 10-minute parking spaces are being added along Liberty Street in front of the building, said Pat Cawley, senior project manager with the city's project management unit. Also, mail drop boxes will be added at Liberty Street and Fifth Avenue, he said.
Herb David, owner of Herb David Guitar Studio, said the road closure could pose problems for customers bringing in heavy instruments and other musical equipment for repairs or lessons. And construction related noise can also interfere with music lessons given at the studio.
"It's harder to find a place to park. It makes it less convenient," said David. "(The underground parking project) is a fiasco. It's a waste of money that could be used for better purposes. Who wants this? That's the question. Who wants this?"
Robert Snyder, president of the South University Neighborhood Association, said he was surprised when he recently learned of the road closure.
"The council knowing is not anywhere near (the same as) the public knowing," Snyder said. "City hall is not very good at getting information out — they mostly have to do damage control."
Snyder said he's concerned about how the road closure could impact Jerusalem Garden and neighboring restaurant Earthen Jar. Snyder said he "doesn't buy" the argument that because the two businesses are "walkup" businesses, they won't be adversely effected.
Brahmoin Sethi said she and her parents, Push Sethi and Guchi Sethi, owners of Earthen Jar, aren't worried about the road closure.
"We're just fine by it because it has to happen," Sethi said. She said it's possible business could be affected, but "we're not really concerned. I think people will adjust just as well as we do."
To provide more seating and increase the visibility of the two businesses, Pollay said a "platform dining area" will be built in the closed portion of the road.
"It will feel like an extension of the sidewalk, into the street," Pollay said. "My anticipation is that we will begin work on it next week."
Pollay said signs will also be posted to let the public know the businesses are open during the road closure.
As of Wednesday, Lewis said post office patrons were more inquisitive than angry about the road closure. "Inquiring, curious, just like we were. 'Where are we going to park?' And, 'How long is it going to be?'"
"You work so hard to build your business, then something like this happens and it's out of your control," Ramlawi said. "We are going to be isolated from foot traffic, from car traffic."
Heather Lockwood is a reporter for AnnArbor.com. Reach her at heatherlockwood@annarbor.com or 734-623-2536. You can also follow her on Twitter.