Posted on
Sat, Aug 27, 2011 : 2:15 p.m.
Sunward Cohousing community installs shared solar panel
By Lisa Carolin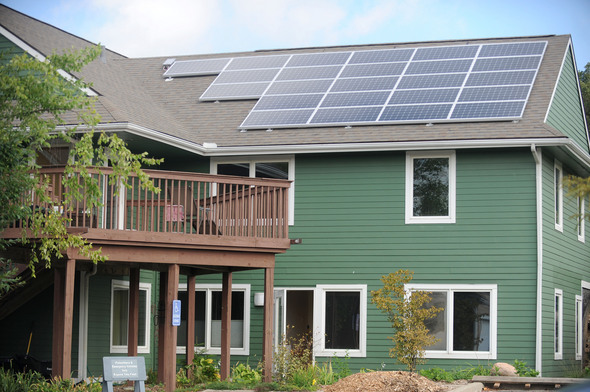 Angela J. Cesere | AnnArbor.com
Some residents of Ann Arbor's Sunward Cohousing are now referring to themselves as "solar visionaries."
That's because a solar panel was installed earlier this month to save on energy used in the community's common house, which includes a shared kitchen, dining room, living room, big screen TV room, exercise room and more.
It took five years for the solar panel to become a reality.
"We began budgeting seed money in 2006 toward a solar project in our common house and were delighted to see the system go live on August 3," said Michael McIntyre, the project lead and one of the original members of Sunward. "We made a community decision by consensus this year."
The common house kitchen is now running on energy from the solar panel, which is sized at 4.4kW, providing about 1/6th of the electricity that the common house typically uses. The solar panel was engineered and installed by SUR Energy LLC in Ann Arbor.
"Twice a week we share meals prepared by volunteers in our common house kitchen, which saves energy and gives us a chance to connect with neighbors," said Sunward resident Nancy Stryker.
"The very way we live at Sunward promotes green living," said Stryker, who has lived there for 10 years. "Formerly I lived alone in a suburban 2000-square-foot ranch home with heating and air conditioning and many rooms I seldom used. I live here just as comfortably using a fraction of the energy at a fraction of the cost. I like living with neighbors who share this approach to saving energy."
"If you're open to co-housing, you're open to something different to begin with," said resident Jim Cook, whose own home recently underwent a total green retrofit using passive solar heating. "Co-housing offers a much more ecologically sound way of living because having housing units closer together helps them to insulate one another."
A number of residents are interested in adding solar panels to their own homes.
"This is just the beginning," said Cook, who is among them.
Other environmentally friendly, cooperative pursuits at Sunward include recycling and composting, and doubling the size of the vegetable and fruit gardens this year. Three quarters of Sunward's 20 acres of land is protected as natural areas of woods, wetlands, prairie and ponds.
Lisa Carolin is a freelance journalist for AnnArbor.com. Reach the news desk at news@annarbor.com.