Posted on
Tue, Jan 29, 2013 : 1:30 p.m.
Cold air coming on heels of possible record warmth, heavy rain in Ann Arbor
By Cindy Heflin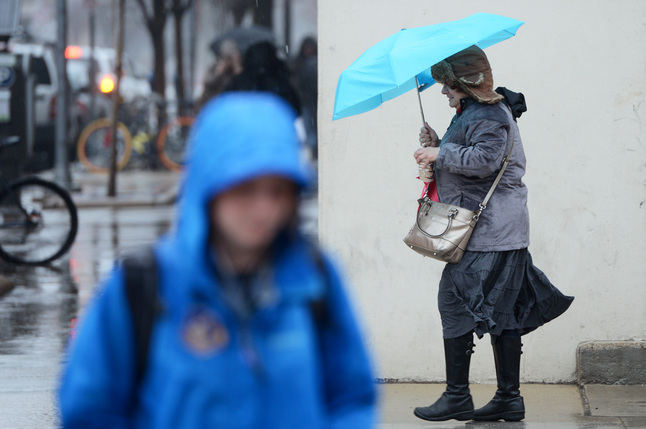 Melanie Maxwell | AnnArbor.com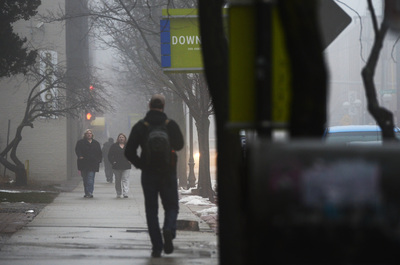 Melanie Maxwell | AnnArbor.com
The record high was set in 1914 when the thermometer reached 57 degrees, said
Dennis Kahlbaum
,
University of Michigan
weather observer.
At 12:23 p.m., the temperature stood at 53 degrees at the Ann Arbor Municipal Airport, the National Weather Service reported.
The unseasonably warm weather is coming with a lot of moisture. The day started with heavy fog. Showers and thunderstorms are expected throughout the day and night. A flood watch goes into effect at 10 p.m. Tuesday and lasts through Wednesday morning.
The weather service said runoff from recent rain and snow melt will combine with additional rainfall through Wednesday morning of up to 1.25 inches, creating the potential for flooding. The flood watch includes all of Washtenaw County and several other counties in southeast Michigan, including Livingston, Lenawee and Wayne.
Wednesday, expect rain showers before 1 p.m. The high will be near 56, but Wednesday marks the beginning of a dramatic cool down. Later in the day there's a chance of rain and snow showers. The temperature will begin to fall with a low of 19 expected Wednesday night.
The rest of the week will be cold with highs in the teens and 20s and lows dropping down to 12 degrees Thursday night and 10 degrees Friday night.
For updated forecasts and conditions anytime, check AnnArbor.com's weather page.