Posted on
Wed, Jan 25, 2012 : 12:31 p.m.
U-M president 'could not agree more' with Obama's remarks on college affordability
By Kellie Woodhouse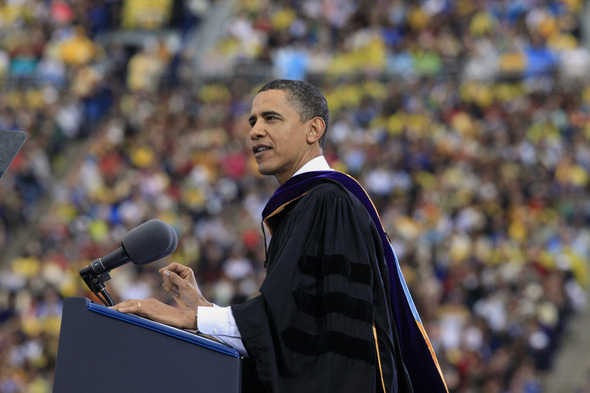 AP Photo
University of Michigan President Mary Sue Coleman lauded President Barack Obama's renewed pledge to address college affordability after his State of the Union speech Tuesday evening.
"We could not agree more with the president that we, as a nation, must recommit ourselves to higher education that is accessible to all," Coleman said in a statement released after the speech. "A highly educated work force is critical to being competitive in today's global marketplace."
Obama will speak about the need to stem rising college costs at an address before roughly 3,000 people at the U-M Al Glick Field House in Ann Arbor on Friday at 9:35 a.m.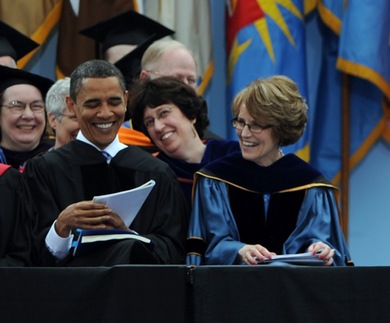 Melanie Maxwell | AnnArbor.com
Tickets for the speech are free and will distributed starting at 9 a.m. Thursday at the Michigan Union Ticket Office.
"Higher education can't be a luxury — it is an economic imperative that every family in America should be able to afford," Obama said last night.
Obama pressed the need to extend an existing tuition tax credit "that saves millions of middle-class families thousands of dollars." The current allowance was passed by congress in 2009 and limits one tax credit per person per year.
Obama said he also wanted to double the number of work study jobs at colleges over the next five years.
The president asserted the importance of government support, but said universities also need to do their part by keeping tuition affordable.
"Let me put colleges and universities on notice: If you can't stop tuition from going up, the funding you get from taxpayers will go down," he said.
In response, Coleman said "the only way to achieve the support necessary for public education today is through a shared commitment that includes the federal government, state government, the business sector, donors, parents and the universities themselves."
Obama invited Coleman to attend a Dec. 5 discussion about college affordability with other public universities, but Coleman declined citing a busy schedule. Two weeks later, Coleman sent an open letter to Obama discussing the need for aggressive policy to ensure that college becomes more affordable.
Kellie Woodhouse covers higher education for AnnArbor.com. Reach her at kelliewoodhouse@annarbor.com or 734-623-4602 and follow her on twitter.