Posted on
Mon, Nov 14, 2011 : 12:11 p.m.
Mary Sue Coleman: 'Families may well leave' if domestic partner benefits ban passes
By Kellie Woodhouse
University of Michigan President Mary Sue Coleman pleaded last week with state legislators to vote against a bill that would take away domestic partner benefits for state employees, including U-M faculty.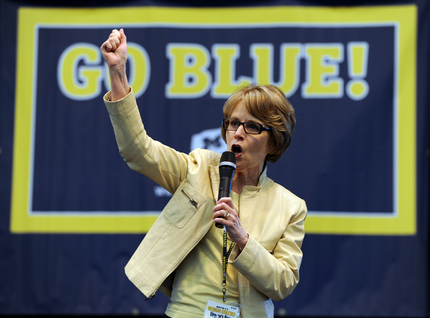 Lon Horwedel | AnnArbor.com
"The University of Michigan must be able to offer an excellent benefit package to our employees and to those we hope to recruit to U-M for their unique talents, skills and expertise," Coleman wrote in a Nov. 8 letter addressed to
Senate Majority Leader Randy Richardville
and sent to all 38 state senators.
"The loss of our ability to offer such benefits would put the university, and our state, at a serious disadvantage compared to peers."
Coleman's letter comes after a heated debate about the proposed elimination. House bill 4770 —which has already been passed by the Michigan House of Representatives in September in a 64-44 party-line vote— seeks to take away benefit allowances for a state employee's domestic partner and that partner's children.
With a Republican-controlled Senate, U-M's concern is that the benefits ban could pass on the party line by a wide margin.
The Senate committee reviewing the bill already has decided to put it to the floor before the entire Senate body for a full review. No date has been set for the review.
"If the bill gets to the Senate floor there will be a vigorous debate," said Cynthia Wilbanks, U-M's vice president of government relations.
In Michigan, same sex marriage is not legal or recognized. Thus, the bill essentially makes it impossible for gay and lesbian individuals to offer benefits to their significant others.
Rep. Dave Agema, a Republican who sponsored the bill, contends it will save millions in state dollars each year. Exact numbers have been contested.
Coleman said that this year 570 adults and 48 children receive domestic partner benefits through a U-M healthcare plan. The average cost per person to the university is $3,072, or $1.9 million total, she said. That's 0.7 percent of U-M's $302 million total healthcare cost.
"In the absence of benefits that are widely offered elsewhere, employees currently responsible for providing health coverage for their families may well leave, and other top candidates will choose not to come," Coleman wrote.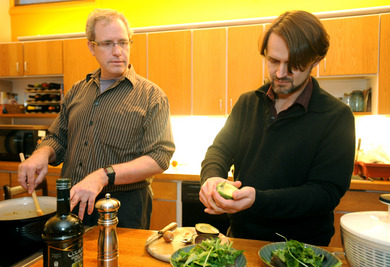 Several university employees told AnnArbor.com in October that they were thinking of looking elsewhere for employment because of the legislation.
"I am actively applying for jobs elsewhere… at universities that don't have these limitations," U-M linguistics professor Andries Coetzee said in October. "I don't want to leave the University of Michigan, I am really happy here. It's a great school to work at, but I have to take care of my family."
Coetzee has been with his partner for seven years years. Coetzee is originally from South Africa and he and his partner are legally married there, but Michigan does not recognize that marriage.
Agema, however, contends that in a difficult economic climate, supporting employees in Coetzee's situation is not Michigan's responsibility. He contends that the state could save millions if the ban is passed.
"It is not the responsibility of taxpayers to support the roommates and unmarried partners of public employees," Agema said in a statement. "Providing benefits in this way is not the role of the state, especially when tax dollars are in short supply and there are critical programs being affected by the decrease in revenue."
Coleman, however, asserted that vacated positions would be mostly filled by individuals who have children and married partners, and thus the university would not realize any significant cost difference.
She also noted that several giant Michigan fortune 500 companies, including Dow Chemical Co., Ford Motor Co., General Motors Corp. and Whirlpool Corp., offer domestic benefits.
If the bill does pass through the senate, Snyder will have the opportunity to veto it.
Wilbanks said U-M will "use many different opportunities to talk with individual legislators and members of (Snyder's) administration and advocate our point of view."
Kellie Woodhouse covers higher education for AnnArbor.com. Reach her at kelliewoodhouse@annarbor.com or 734-623-4602 and follow her on twitter.