Posted on
Thu, May 31, 2012 : 10:25 a.m.
Coleman says Michigan universities should focus on recruiting more out-of-state students
By Ryan J. Stanton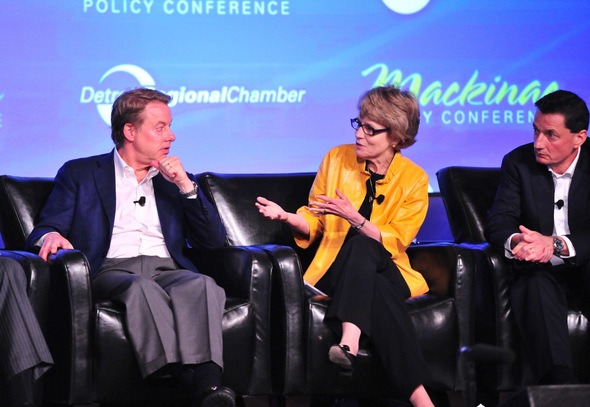 Ryan J. Stanton | AnnArbor.com
RELATED STORY: University of Michigan chief 5th-highest paid public university president in nation
MACKINAC ISLAND — University of Michigan President Mary Sue Coleman said on Thursday the state's universities should focus on recruiting more out-of-state students.
"As a state, if you look at all 15 universities, we are underperforming in terms of our out-of-state student population," she said. "That is, we have capacity, and these students come paying the full freight. They actually add tremendously to the economy in the state of Michigan."
U-M has one of the highest non-resident tuition rates of any public university in the nation. Out-of-state juniors and seniors pay $40,436 in yearly tuition and fees.
Coleman shared the stage with Ford Motor Co. CEO Bill Ford Jr. during a panel discussion as part of the Detroit Regional Chamber's annual Mackinac Policy Conference.
Also on stage were Mike Jandernoa, former chairman and CEO of Perrigo; and Hans-Werner Kaas, director of McKinsey & Co.
All are members of a group called Business Leaders for Michigan. They discussed their hopes for the state's future and the 2012 Michigan Turnaround Plan, an aggressive agenda that sets out to make Michigan a Top 10 state for job, economic and personal income growth.
Coleman talked about the importance of developing an entrepreneurial culture around the state's research universities, including the University of Michigan.
"Of course we all look at Silicon Valley as being the model that we want to replicate," she said. "Silicon Valley was a long time coming. I mean, I understand all that and we are in many ways in the infancy of doing this, but we have made a lot of progress."
Coleman said it's OK to be experimental and even start new businesses that might fail. She said failure must be acceptable.
The panel also touched briefly on higher education funding, with Coleman putting it bluntly when she said, on an inflation-adjusted basis, state funding has been reduced to 1964 levels.
"Higher education has really taken it on the chin during this economic downturn," she said, adding the state needs to get back into an investment mode.
Looking back over history, Coleman said, it's clear that investment in providing access to higher education has been tremendously important for the country and the world.
"One of the things that's happened over the last decade, and it's been going on for 30 years, is the burden of the cost of higher education has gone to families and less to the state and less to society," she said. "And we can look at it as sort of a heavy tax on families."
Added Coleman: "I see so clearly the relationship between robust investment in higher education and economic development."
She said she's encouraged by the work the Business Leaders for Michigan has done to show that Michigan universities are producing more graduates with degrees in a science, technology, engineering or mathematics and doing it more efficiently than the national average.
"We are a good investment to drive this economic growth," she said. "And I'm hoping that we're beginning to see the turnaround."
In response to a question from moderator Daniel Howes, Ford said it's absolutely true his company hasn't always been willing to embrace new ideas.
"I think it was part of our insular culture," he said. "We were an insular industry, an insular company."
He talked about the changing perception of the auto industry, even on college campuses, and said young people are coming out of Michigan universities ready to tackle today's challenges.
"I think the universities in general are doing a really good job of highlighting the issues that need to be worked on and giving students the tools to work on them," he said.
A new report released this week showed three Michigan universities have spent more than $300 million on automobile-related research over the past five years.
The analysis by the Lansing-based Anderson Economic Group was released Wednesday on Mackinac Island. It focuses on efforts by a research consortium involving the University of Michigan, Michigan State University and Wayne State University.
Michigan still has 28 percent of the nation's auto sector jobs. Coleman said despite its downsizing, the industry will remain a cornerstone of the state's economy.
The report released this week noted the three universities supported 1,400 auto-related research projects between 2007 and 2011.
Coleman said during Thursday's panel discussion her son bought a Ford Flex and her grandchildren wouldn't get out of it "because they love all the gadgets in the car."
"It's this kind of excitement with the things that are happening today that the students really want to be part of and they want to be part of this problem-solving," she said. "And they are fearless in a way about the future and I think that is very good for all of us."
Coleman also talked about being a leader in producing patents for new technologies and the importance of turning those patents into successful businesses.
"And we just got the first regional patent office in the country in Detroit," she said. "That's a great big deal for us and we should take advantage of that."
Higher education reporter Kellie Woodhouse contributed to this report. Ryan J. Stanton covers government and politics for AnnArbor.com. Reach him at ryanstanton@annarbor.com or 734-623-2529. You also can follow him on Twitter or subscribe to AnnArbor.com's email newsletters.