Comic books and their creators set to converge on downtown Chelsea with free event for kids, teens, families
Posted on Sun, Jun 12, 2011 : 5:19 p.m.
Comic books and more than 40 of their creators will take over downtown Chelsea on June 18-19 as the 3rd annual Kids Read Comics Celebration arrives in town.
Kids Read Comics is a free event, with the exception of materials sold by artists and food from vendors.
Included on the list are Raina Telgemeier, cartoonist creator of the Eisner Award-nominated middle school comics memoir "Smile"; Ruth McNally Barshaw, author and illustrator of the popular Ellie McDoodle series of books and Barbara Slate, creator of "You Can Do a Graphic Novel."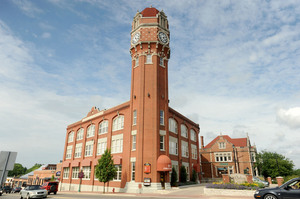 Also expected are
John Osterander
, writer of "Star Wars" comics,
Dave Roman
, writer-artist of Astronaut Academy and an editor of
Nickelodeon Magazine
.
The weekend includes interactive events with comics and animation professionals, free comics giveaways from major publishers, and a kids' costume parade down Main Street, and much more, according to information provided by the Chelsea District Library.
Based at the library, the event will also take over downtown, where 16 shops and restaurants will host artists and special activities from 10 a.m. to 8 p.m. Saturday and noon to 6 p.m. Sunday. Visitors can buy comics from the artists and writers and participate in hands-on cartooning and storytelling workshops, attend panel discussions, art demonstrations, and take part in the improvisational quick-draw challenge.
Plus, there will be a superhero costume parade including Darth Vader and Mr. Incredible at 11:30 a.m. Saturday beginning at the library. Also included in the fun are balloon making, a bounce house, airbrush face painting, kids' crafts, a comics' scavenger hunt, and lunch with artists at Jet's Pizza.
On Saturday, there will be activities specifically oriented to teens around the Chelsea Clocktower Commons, and include a drawing wall, a 25-foot climbing tower, a costume contest with a 4:15 p.m. line-up time and masquerade party beginning at 5 p.m.
The Chelsea River Gallery will hold a reception from 6-8 p.m. for "Comic Jam," an exhibit of original comic book art that will be on display through June 23.
Sunday, there will be in-depth cartooning and storytelling workshops for kids, teens, and adults, along with professional development workshops for teachers and librarians who want to learn how to use comics for young people in their work settings.
The event is held in partnership with the Chelsea District Library, the Friends of Chelsea District Library, Chelsea Center for the Arts, River Gallery Fine Art and with a grant from the Michigan Council for Arts and Cultural Affairs.
Jet's Pizza in Chelsea, Mission Marketplace, Treehouse and Chelsea Teddy Bear Company are also partners in the event.