Posted on
Thu, Nov 24, 2011 : 5:17 p.m.
Community High graduate attending climate change conference in South Africa
By AnnArbor.com Staff
Community High School graduate Katie O'Brien will be a member of the Sierra Student Coalition when she heads to Durban, South Africa, Friday through Dec. 9.
O'Brien, a 2011 graduate, will join eight classmates from College of the Atlantic as members of the COA delegation to the United Nations Framework Convention on Climate Change.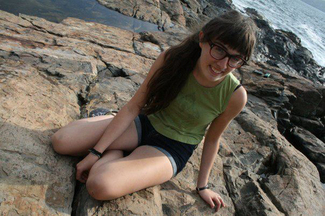 Courtesy photo
The United Nations Climate Change Conference, Durban 2011, will bring together representatives of the world's governments, international organizations and civil society. The discussions will seek to advance, in a balanced fashion, the implementation of the Convention and the Kyoto Protocol, as well as the Bali Action Plan, agreed at COP 13 in 2007, and the Cancun Agreements, reached at COP 16 last December, according to its website.
"Durban comes at a critical time internationally," O'Brien said in a statement. "The commitment period of the Kyoto Protocol is running out and the lack of action of previous meetings in Copenhagen and Cancun are looming over the heads of the delegates. A more decisive action must be taken at Durban because we are running out of time. And, as youths, we are the people who will see the impacts of climate change in our lifetime. We must stand up and make our voices heard at an international level."
She says she'll be using her time in Durban to make the issues of climate change at a global level more visible to other youth.
Along with most of COA's delegation, O'Brien has been studying international environmental policy issues with Doreen Stabinsky, PhD, COA faculty member in international relations, according to a news release. The other students come from Northern Ireland, Canada, Mexico, Finland, Massachusetts and New Hampshire.
O'Brien said she hopes the meetings — made up of 193 countries — will help establish the Green Climate Fund, begun at last year's meetings in Cancun, but still being negotiated. This would dedicate funds to help poorer nations deal with the impacts of climate change, such as the droughts that are drying up much of Africa, she said in the release.
"I am also hopeful that the second commitment period of the Kyoto Protocol could be fleshed out or some sort of legally-binding document effectively reducing our emissions, though this is less likely. I do see that youth involvement could help move things along and make an impact," she said.
View a blog from COA's delegation at http://www.earthinbrackets.org.