community wall links:

Regional science fair comes to WCC March 8-9; Japanese language students from Ann Arbor take first place in state competition

Posted on Fri, Mar 8, 2013 : 9:13 a.m.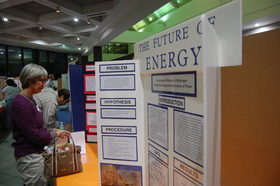 AnnArbor.com file photo | Janet Miller

From a regional science fair at Washteanaw Community College to Japanese language students from Ann Arbor's Ohara Institute winning the state Japanese Quiz Bowl, here's a roundup of some of the stories posted on AnnArbor.com's Community Wall over the last week:

By: Janet Hawkins: Regional Science Fair Returns to WCC March 8, 9

The Southeastern Michigan Science Fair returns to Washtenaw Community College March 8 and 9. It will open to the public on Saturday, March 9, from noon to 4:00pm in the WCC Morris Lawrence building.

By: Frances Kai-Hwa Wang: Ann Arbor's Ohara Language Institute Students win State in 20th Annual Michigan Japanese Quiz Bowl

Both Ohara Language Institute teams won first place in their divisions. Hao Hao Wang Pontius and Samantha Liu (of Huron High School) won first place in Division 5, the highest level of competition. Emi Jackson (of Skyline High School), Chris Schweitzer (of Pioneer High School), and Alahna Brennan (of Saline High School) won first place in Division 2.