Posted on
Fri, Mar 8, 2013 : 9:13 a.m.
Regional science fair comes to WCC March 8-9; Japanese language students from Ann Arbor take first place in state competition
By AnnArbor.com Staff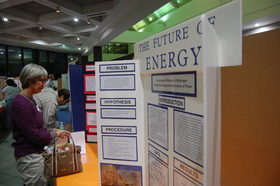 AnnArbor.com file photo | Janet Miller
From a regional science fair at Washteanaw Community College to Japanese language students from Ann Arbor's Ohara Institute winning the state Japanese Quiz Bowl, here's a roundup of some of the stories posted on AnnArbor.com's
Community Wall
over the last week:
By: Janet Hawkins: Regional Science Fair Returns to WCC March 8, 9
The Southeastern Michigan Science Fair returns to Washtenaw Community College March 8 and 9. It will open to the public on Saturday, March 9, from noon to 4:00pm in the WCC Morris Lawrence building.
By: Frances Kai-Hwa Wang: Ann Arbor's Ohara Language Institute Students win State in 20th Annual Michigan Japanese Quiz Bowl
Both Ohara Language Institute teams won first place in their divisions. Hao Hao Wang Pontius and Samantha Liu (of Huron High School) won first place in Division 5, the highest level of competition. Emi Jackson (of Skyline High School), Chris Schweitzer (of Pioneer High School), and Alahna Brennan (of Saline High School) won first place in Division 2.
By: The Whole Brain Group: Donuts and Inboud Marketing
By: Chris Kochmanski: Ann Arbor's Daycroft Montessori School Offers Full-Day and Half-Day Summer Camps
By: PurpleWalrusPress: Purple Walrus Press Play Review: "Good People" Poignant And Powerful and Straight Dope: Ypsilanti Community Schools Supporters Mystery Message Update
By: David Hallenbeck: Spring Bear 3D Archery Shoot
By: Ann Arbor Thrift Shop: AA Thrift Shop: Calling all Crafters!
By: Krysia: Learn to Utilize Digital Marketing Skills in Business During March LA2M Presentations
By: Patty Samsel: Saturday Morning Church Retreat - "The Creed - Faith We Live By"
By: Grant: Retreat facility in Ann Arbor?
By: Vicki Coury: Lincoln Spanish Immersion Parent Information Meeting and Lincoln Kindergarten Roundup - March 4-8
By: Emma Jackson: WISD Superintendent on Detroit Public Television
By: Deb Kern: Low Cost Pet Vaccination Clinic Saturday, March 9th - 9 to 11 am
By: Erin K. O'Neill: Digital Marketing Agency, Ingenex, Hires New Eco-Friendly Interns
AnnArbor.com's Community Wall is a spot for local people to post local stories, news and announcements. To post a story, sign in to AnnArbor.com, then go to www.annarbor.com/community and use the Got News? Tell Us function at the top to submit your news. If you have a photo to add, e-mail it to us at community@annarbor.com, and we'll insert it into your story.