Posted on
Thu, Dec 2, 2010 : 6:03 a.m.
Ann Arbor school district celebrates end of $255M bond project that helped modernize buildings
By Kyle Feldscher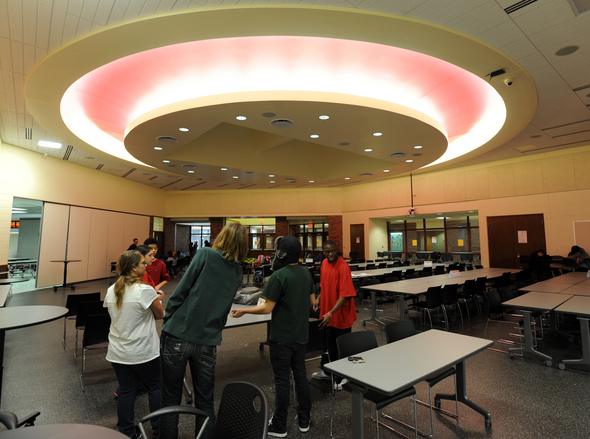 Lon Horwedel | AnnArbor.com
Note: This story has been corrected to give the correct date of the open house celebration
Six years after a voter-approved bond, construction and upgrades are finally finished at Ann Arbor Public Schools.
And officials say the projects have thrust the district into the 21st century.
In June 2004, voters approved a $255 million bond that was used to build Skyline High School, create new preschool facilities, make technological upgrades in nearly every school and make infrastructure improvements to every school.
Randy Trent, the district's executive director of physical properties, said the process of using the bond money for construction started off slowly and was marred by some "stumbling blocks." But it ended on a positive note, he said.
"We had our problems at the beginning as Skyline got started, but as it started to progress and we got (former superintendent Todd) Roberts on board … we improved every step of the way," he said.
Skyline and several other projects originally came in over budget and were delayed. But as the projects in the Comprehensive School Improvement Plan were completed, the district was able to realize unexpected savings, Trent said.
That allowed for more technological upgrades than planned, in addition to new projects. The plan originally called for about $20 million in technological purchases, but about $7 million will be added.
The bond project, first targeted to be complete by the fall of 2009, was finished this fall with the final original construction project — renovations in Pioneer High School.
The district is holding a celebration of the completion Friday at 6:30 p.m. in the Pioneer cafeteria.
Saving money to do more
By having the majority of the work done during the school year — as opposed to the more expensive summer period — the district was able to realize a 15 percent to 20 percent savings on many projects, Trent said. The downturn in the economy also helped drive down bidding prices in recent years.
"At Slauson, they had a lot of intensive work done during the school year, which allowed for a lot of money to add a media center renovation that wasn't even in the plan," he said. "Same thing at Clague — the main office hadn't ever been renovated, so we had that done."
Some projects in the plan weren't done at all, allowing the district to save bond money.
In the original plan, seven new preschool facilities were to be built. But as the new facilities were being constructed, the district realized there wasn't enough demand to fill them, and four buildings were scrapped. Money meant for those projects was used for new technological purchases, Trent said.
After finishing many of the infrastructure upgrades — including new boilers, floors and vents in many schools — Trent said the district was able to go back to the buildings and ask what other improvements could be made.
"When the opportunities became available, we went back to the buildings to see what they thought are the needs," he said. "What are the things that will make your life even better? That's where I think we got a lot of the benefit."
A more modern learning environment
Teachers are embracing the technological upgrades, said Scarlett Middle School Principal Gerald Vazquez.
Scarlett was one of the schools enhanced the most by the bond money, singled out for a technology infusion.
"There are teachers who utilize those tools on a daily basis," he said. "There's an opportunity to improve communication with students. It's a powerful tool because if a kid is out of school one day and the teacher is utilizing Google Docs and updating their calendar, the kid can see what transpired in their classroom."
Some of the initiatives originally planned, such as a 1-to-1 ratio of laptops and students, fell through during the bond process, Vazquez said.
In addition to the technological upgrades, Scarlett also had the facade of the building renovated and other structural changes made within the school.
Vazquez said parents and staff have told him the school looks more welcoming now and inspires a greater sense of pride.
"It's something you can be proud of," he said. "It's more inviting where kids feel comfortable in a solid learning environment."
Spacious high schools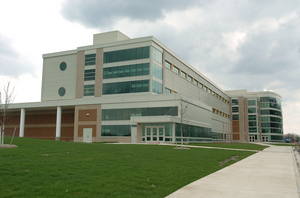 Lon Horwedel | AnnArbor.com
In the days before Skyline High School, district spokeswoman Liz Margolis would take groups of community members to Huron and Pioneer high schools to allow them to experience the crush of passing time.
"We'd take them to the schools and we had them stand as best they could off to the side during passing time, and they were shocked," she said. "It was an amazing experience to see the waves (of students) filter through the halls."
However, with all three high schools one year away from settling in at a student population of about 1,600 at each school, those days are gone.
Margolis said she's heard comments, mostly from staff, about how different the schools are now that the student population has decreased. At its peak of about 3,000 students, Pioneer had the largest high school student body in the state.
It would be a striking change to former students, she said.
"If a student that graduated a couple years ago stood in the hall during passing time they would say, 'Oh my God,'" she said. "It's quite dramatic."
Kyle Feldscher cover K-12 education for AnnArbor.com. He can be reached at kylefeldscher@annarbor.com.