Posted on
Tue, Nov 6, 2012 : 1:05 p.m.
Computer malfunction causes long lines for voters at Ann Arbor Community Center
By Kyle Feldscher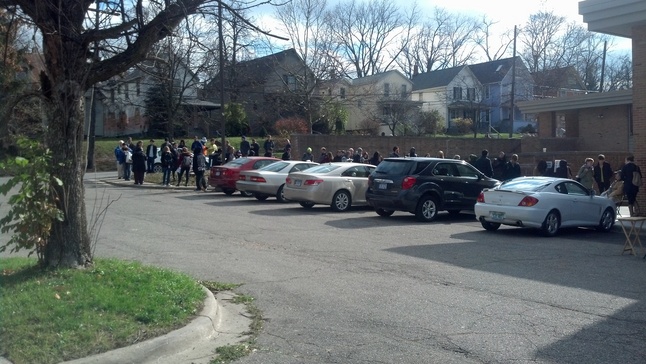 Kyle Feldscher | AnnArbor.com
Voters were forced to wait in long lines at the Ann Arbor Community Center Tuesday after a computer malfunction stopped voting for about half an hour, although unconfirmed reports stated the stoppage may have been longer.
Ed Golembiewski, director of elections for Washtenaw County, said the electronic poll book, which verifies voters' registration status, had malfunctioned for a short time. Golembiewski said the chairperson at the First Ward, Precinct 4 polling place decided to stop the line to try to resolve the problem.
"The chairperson in charge stopped the line while they were trying to figure out what's going on and they really shouldn't have done that," he said.
As of 12:45 p.m. Tuesday, the computer problem had been fixed and the line was again moving at the community center, 625 N. Main St. The line stretched out the door and snaked around the building onto the sidewalk heading south along Main Street.
Ann Arbor City Clerk Jacqueline Beaudry told AnnArbor.com the line at the community center was now running at about an hour. She said the pollbook had stopped working but was now functioning without any major problems.
"Unlike the paper process, the driver's license can be scanned and quickly processed, but there is only one pollbook per precinct versus two paper books," she said in an email.
Voters standing near the entrance to the building said they had been waiting for about 45 minutes to an hour. One woman, who asked to only be identified as Jenny S., said she had waited two and a half hours to vote.
"We waited about a half hour for them to fix it and now it's going fast," she said as she was leaving the building.
Kyle Feldscher covers cops and courts for AnnArbor.com. He can be reached at kylefeldscher@annarbor.com or you can follow him on Twitter.