Posted on
Tue, Jun 5, 2012 : 1:40 p.m.
Concerns about Ypsilanti's ability to pay its way aired as countywide transit talks move along
By Ryan J. Stanton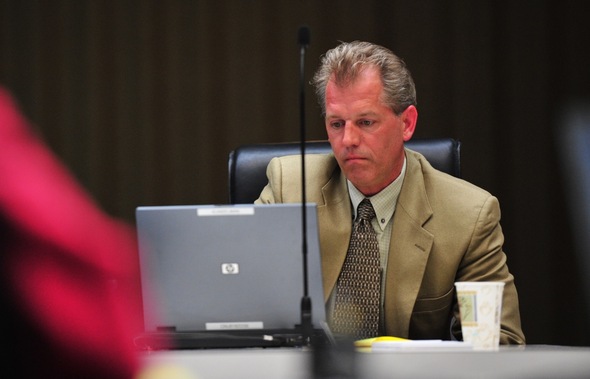 Ryan J. Stanton | AnnArbor.com
Ann Arbor Transportation Authority CEO
Michael Ford
acknowledges Ypsilanti's contract for bus service with AATA expires this month, but not much beyond that is being said.
Ann Arbor City Council Member Stephen Kunselman, D-3rd Ward, repeatedly asked Monday night if Ford could elaborate on what might happen when the contract expires or if it's somehow extended, but Ford said he wasn't ready to give an answer.
"We're talking about that right now, so we're going to be meeting with them to determine how we can work with them to continue the service," Ford said.
Ypsilanti Mayor Paul Schreiber could not be reached for comment.
Ford's comments came as the Ann Arbor City Council voted 8-3 to approve changes to a four-party agreement between Ann Arbor, Ypsilanti, Washtenaw County and the AATA, laying the framework for creation of a new countywide transit authority.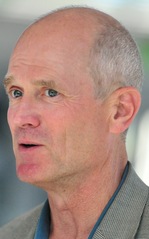 "I see a clear economic advantage to expanded transit," Mayor
John Hieftje
said. "I will be supporting moving this along and continuing this discussion. It will be, of course, coming back to us."
The Ann Arbor City Council originally approved the four-party agreement back in March, but the Ypsilanti City Council made minor changes to it on May 15. Ann Arbor concurred with some, but not all, of those changes at Monday's meeting.
All four parties must approve the agreement with the same terms and conditions prior to the filing of articles of incorporation for a new countywide transit authority.
Kunselman said he's not sure how Ypsilanti residents, who voted by a 2-1 margin against two city tax proposals last month, are going to afford to pay into a countywide system.
"They can't pay for the services they have now," he said. "A half-mill of increased transit tax will maybe get them to where they want to be, but yet you're talking that they will have more service. Where will that money come from if it won't be funded by the city of Ypsilanti?"
The AATA in late April released a five-year countywide service plan that contemplates a combination of fare increases and new funding equivalent to a 0.5-mill countywide transit tax to pay for the expansion of transit services in Washtenaw County.
The new plan would require $38.3 million in extra capital investments over five years and add $13.3 million to yearly operating costs when all elements are implemented.
The idea is that any new countywide tax, assuming it's approved as the way to go, would be layered on top of the existing transit millages in Ann Arbor and Ypsilanti.
In reference to Ypsilanti's expiring purchase-of-service agreement with AATA, Kunselman asked Ford whether it's an option to have Ann Arbor's millage support Ypsilanti services.
"I'd rather talk to them first and find out what our options are before I would say something that may not make any sense," Ford said.
"We haven't met," Ford acknowledged, noting he'd like to discuss the possible options with Ypsilanti regarding its contract before discussing it in public.
"That's coming up pretty quick, though," Kunselman said, noting the contract expires this month. "So where would the money come from? Because it certainly can't come from the city of Ypsilanti. They don't have the money, as we've seen."
Given the fact that Ypsilanti officials are grappling with millions of dollars in budget cuts, Kunselman said it seems funding continuation of transit services in Ypsilanti would have to come from some other source outside of the city, and most likely Ann Arbor's millage.
"Can you explain that? Is that an option at least?" Kunselman asked Ford again.
"There are options on the table right now and I'd like to meet with them to discuss that before I would say anything here," Ford reiterated.
Hieftje and a majority of council members are excited about moving forward with countywide transit, but three council members remain skeptical. Mike Anglin and Jane Lumm joined Kunselman in voting against the amended four-party agreement.
"My fear is are we putting an undue financial burden on some of these systems, on some of these municipalities, particularly Ypsilanti?" Anglin said.
"I look at this as a situation where Ann Arbor has had a successful dedicated transit system that taxpayers have funded and controlled for decades," Lumm said. "We're being asked to fundamentally change that structure, expand and cede a measure of control."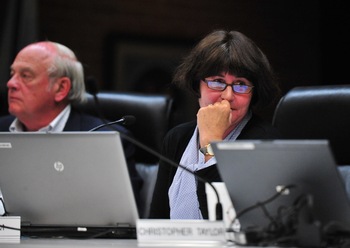 Ryan J. Stanton | AnnArbor.com
Lumm said she's glad the agreement at least ensures a vote of the people before any of AATA's assets or millage revenues can be transferred to a new authority.
"The concerns that remain for me have to do with the assumption that this Act 196 countywide authority is the best way to achieve transit in the county," she said. "I'm not convinced that's the case. I think there are more incremental approaches that are less risky."
Council Member Sabra Briere, D-1st Ward, noted that by approving Monday's resolution, the council also was approving the articles of incorporation for a new authority.
If voters approved a new 0.5-mill countywide transit tax, AATA officials estimate the average homeowner would pay an extra $50 a year based on a home value of $200,000.
Lumm said her primary concern is about the equity for Ann Arbor taxpayers, and the fact that while Ann Arbor is providing the majority of the local funding, it won't have majority control of the governing board for a new countywide transit authority.
Briere reminded Lumm that Ann Arbor has seven of 15 members on the proposed board and said the concern that Ann Arbor won't have a majority voice is countered by concerns from representatives of other communities who fear Ann Arbor will dominate.
Kunselman said he's not supporting the plan because he doesn't support a transit tax increase, and he's convinced that's how it's going to get funded.
"I would hope that all of my council members who are supporting this, as we're moving forward, tell the public how you stand on a half-mill transit tax increase, because that's what is going to drive this. There is no state money," he said. "There is no miracle dollar that's going to come and fund countywide transit in Washtenaw County without a transit tax increase."
While that half mill would generate millions of dollars in Ann Arbor, Kunselman said, it wouldn't generate very much in Ypsilanti.
"So they're going to get a lot more service out of a regional transportation service using a donor community like Ann Arbor," he said.
Kunselman noted five or six townships already have decided not to participate in the countywide transit discussions and he predicts more will opt out.
"We know how those townships are," he said. "For those of us who grew up in Washtenaw County, we know that they're very tax-averse in western Washtenaw County."
The changes made to the four-party agreement had to do with a municipal service charge that both Ann Arbor and Ypsilanti collect before passing along their respective transit millage revenues to the AATA. Ypsilanti recently amended the agreement so that both cities would not collect a municipal service charge under the countywide model.
Lumm brought forward a counter amendment Monday night, saying Ypsilanti can do as it wishes with its money, but Ann Arbor should keep its 1 percent service charge.
For Ypsilanti, she said, a 1 percent service charge is not significant because it's only $3,000. But for Ann Arbor, with a higher tax base and higher millage rate, it amounts to $92,000. Lumm won support for her proposal to keep the charge intact.
Ford said the municipal service charge started in 1975 for tax assessment and billing purposes, and since that time an administrative fee also has been added.
"The municipal service fee right now, if we were able to recoup that, that money could go back into service for Ann Arbor," Ford said. "It could definitely be used."
Ryan J. Stanton covers government and politics for AnnArbor.com. Reach him at ryanstanton@annarbor.com or 734-623-2529. You also can follow him on Twitter or subscribe to AnnArbor.com's email newsletters.