Posted on
Sun, Feb 14, 2010 : 6 a.m.
Concordia University Ann Arbor students stand to lose grant cash under Granholm proposal
By Juliana Keeping
Officials from Concordia University Ann Arbor said they were shocked to hear of plans to end need-based tuition grants for private college students.
The move proposed by Gov. Jennifer Granholm would save Michigan $30 million, but cost some local students up to $1,600 per year.
For an undergraduate student relying on loans and grants to attend the private, Christian liberal arts college, the loss would be felt deeply, financial aid director Angela Acosta said. The school's 350 undergraduate students pay $20,390 a year in tuition.
"Any type of aid they can get is helpful," she said. "Students look forward to those extra resources, especially dependent students, where there are loan limits on them."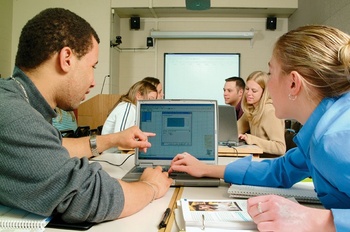 Photo courtesy of Concordia University Ann Arbor
Granholm presented her budget recommendation for next fiscal year Thursday at a joint session of the House and Senate Appropriations Committees at the Capitol, highlighting education as a key priority to moving Michigan to economic recovery.
But proposed funding for public universities and community colleges would remain flat under her higher education recommendation, which would impact the 2010-11 school year. Plans also included reinventing the merit-based Michigan Promise scholarship program as a tax credit.
The state last reduced need-based tuition grants for private college students in December 2009, from a maximum of $2,100 a year per student to $1,600, Acosta said. And that loss hurt, with parents bombarding the school with desperate phone calls just before Christmas and some students making up for the difference on their credit cards.
Because the school's endowment is also down, finding in-house financial aid to make up for lost grants would be a challenge, Acosta said.

Granholm's budget recommendation begins the months-long hashing out of the budget for the next fiscal year. Now, each piece of the proposal - such as the higher education budget recommendation - will move to the appropriate House subcommittee and go through a number of hearings before the full House weighs in. Then the Senate begins its process. All told, lawmakers have until Oct. 1 to agree on a state budget, which will need to be signed into law by Granholm.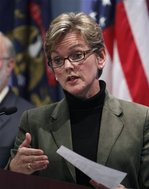 State Rep. Joan Bauer, D-Lansing, who chairs the House Appropriations Subcommittee on Higher Education, said she found the big picture for higher education troubling. She said Michigan ranks 42nd out of 50 states in terms of per capita funding for higher education.
"I think we need to be increasing need-based scholarship funding for kids in Michigan," she said. "We need to really take a look at making college more affordable for our kids."
While Granholm's plans didn't sit well with private college officials and some lawmakers, reaction from top officials at local public institutions Eastern Michigan University and the University of Michigan was positive, if not cautiously so.
"I'm extremely pleased with the governor's recommendation," EMU President Susan Martin said. "I hope the Legislature embraces it and doesn't reduce our funding."
Asked how receiving $78 million in state dollars for 2010-2011 might impact the university, Martin said: "I think it will put us in a good position. We were very fearful of getting a significant state cut."
"We're trying to be careful and utilize our dollars effectively while keeping college affordable for our students," Martin continued.
EMU has increased its enrollment this school year, frozen salaries of 100 top administrators and saved $1 million in energy costs, moves Martin said helped keep the school's 3.5 percent tuition hike in fall 2009 the lowest among the state's 15 public universities. EMU is also investing $80 million over three years in its facilities and hiring 42 tenure-track faculty, she said. An in-state undergraduate pays $8,377 in tuition and fees to attend EMU.
Cynthia Wilbanks, vice president for Government Relations at U-M, called Granholm's proposal straightforward and said it contained no big surprises. U-M would receive about $325 million for 2010-2011 under Granholm's budget recommendation. Asked about the potential impact of that funding level on tuition, Wilbanks said it's too early to tell.
"I'm certainly happy to see a budget that has no reductions in it, but it is early on," she said.
In-state freshman attending U-M's largest undergraduate school - the College of Literature, Science and the Arts - are due pay $11,659 this year.
Requests for comments from the governor's office and the chair of the Senate Appropriations Subcommittee on Higher Education were not immediately returned.
Juliana Keeping covers higher education for AnnArbor.com. Reach her at julianakeeping@annarbor.com or 734-623-2528. Follow Juliana Keeping on Twitter