Posted on
Wed, Jan 9, 2013 : 9:30 a.m.
Concordia University to add accelerated learning centers in Frankenmuth and Dearborn
By Erica Hobbs
Concordia University Ann Arbor is expanding its programs to target working adults in different parts of the state. The private Christian university is creating an accelerated learning center in Frankenmuth and Dearborn, as part of its merger with its sister school, Concordia University Wisconsin. The expansion follows the model of Concordia University Wisconsin, which currently has 10 accelerated learning centers in Wisconsin.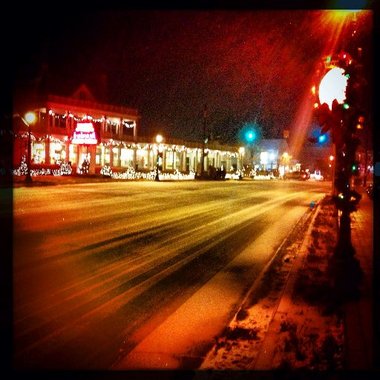 MLive.com file photo
Rochelle Regenauer, Concordia University Wisconsin Centers and Accelerated Programs executive director, said the university started looking around different cities in Michigan in which to expand and got positive feedback from Frankenmuth and Dearborn.
"People there have been saying, 'You're exactly what we needed,'" she said.
Different than a traditional campus educational experience, accelerated learning centers offer a teaching model designed to accommodate the needs of working adults. Instead of shorter classes several days a week for several months, a typical course at an accelerated learning center meets for four hours one night a week and lasts for six weeks, Regenauer said.
She declined to reveal the cost of the expansion plans but said the university is significantly vested in the new centers. She said tuition costs will be the same as traditional Concordia University fees.
The centers plan to offer undergraduate courses in business, hospitality management, management of criminal justice and nursing, as well as a Master of Science program in organizational leadership and administration. But Regenauer said the course selection will be based on the needs of the community.
"We're going to do the courses that are most conducive to everyone," she said.
The university has opened administrative offices at 516 Main Street in downtown Frankenmuth and plans to rent out classroom space at Lutheran Home Care until it has enough enrollment to create a comprehensive learning center. In Dearborn, the university is in the process of leasing an inclusive administrative and teaching space at the Great Lakes Members Credit Union building at 22720 Michigan Ave.
Lynn Zuellig, former chief operating officer of Lutheran Home Care in Frankenmuth, will lead the Frankenmuth center as Center Director and Student Manager. Saul Davis, a former partner with Cophec retail clinic, will take on the same role at the Dearborn center.
As the new centers establish themselves, Zuellig said she expects initial courses in Frankenmuth to be small in volume but good in educational value with significant growth prospects.
"We hope that we begin to establish a strong student base and that we identify the needs of the community and match the programs offering to what the students' needs are," she said.
Davis said the new center provides a quality option for non-traditional students.
"A lot of people, they work and they have families and they put things off and put them off," he said. "But the way that this is situated, it provides an option for people who have those responsibilities to pursue a degree."
The Frankenmuth center will host a community welcome and outreach event from 5 to 8 p.m., Jan. 10, at the Bavarian Inn Restaurant at 713 S. Main St., in Frankenmuth. The session is welcome to prospective students and community members and will provide information about the center, courses and tuition and will have representatives available to answer questions.
Davis said he will organize a similar event in Dearborn sometime in mid-to-late January, but plans have not yet been finalized.
Concordia University Ann Arbor announced its merger with Concordia University Wisconsin earlier this year, after facing a dwindling student population and $18 million in debt. The merger, expected to be completed in mid-2013, gives Concordia University Wisconsin financial and managerial control over the Ann Arbor campus.
Regenauer said there are not any more centers planned until the merger is final, but there will be more to come.
"I expect us to be offering more centers, absolutely," she said, "Once we find out what are their needs."