Posted on
Fri, Jun 29, 2012 : 5:16 p.m.
Congress passes bill that prevents student loan rates from rising sharply
By Ben Freed
Congress voted Friday to extend lower interest rates on Stafford student loans the Detroit Free Press reports.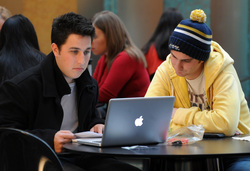 Melanie Maxwell | AnnArbor.com
The vote came as part of a larger compromise bill that also included federal funding for highway construction and other infrastructure projects.
The bill passed both the House and Senate with overwhelming majorities. It passed the House with a 373-52 vote and the Senate by a margin of 74-19.
The vote kept the rates on Stafford loans from doubling from 3.4% to 6.8%.