Posted on
Thu, May 2, 2013 : 5:59 a.m.
New pedestrian crossing aims to improve safety on Huron Street in Ann Arbor
By Amy Biolchini
Editor's note: A sentence was edited for redundancy at 9:40 a.m.
The City of Ann Arbor is beginning construction this week on a pedestrian refuge island aimed at improving safety in a high-traffic area of East Huron Street where people frequently dart across the road on foot.
The refuge island will be installed on East Huron Street between Thayer and Ingalls . It's an area where pedestrians frequently cross from the University of Michigan's campus on the south side of the street to the neighborhood on the north side of the street.
"It's a safety improvement," said Kari Arend, spokeswoman for the Michigan Department of Transportation. "We determined the location (of the pedestrian island) based on a pedestrian count."
Two lanes of East Huron Street between Glen Avenue and State Street will be closed from Wednesday until May 16 for the work.
The city had initially sought to install a pedestrian island in the area in 2008 after one pedestrian died and another was injured when struck by a car at Fletcher and Huron streets Dec. 11, 2007. The project didn't go forward because of funding issues, but a traffic signal is in place at that intersection now.
Concerns about pedestrian safety in the area as well as the opening of U-M's North Quad at the corner of State and Huron streets prompted the city to go ahead with the island project now, said Pat Cawley, project manager for the City of Ann Arbor.
"The hope is it will provide a small additional margin of safety to have a refuge island in the middle of the block should an individual find traffic to be too heavy as they're crossing," said Jim Kosteva, director of community relations for U-M.
The refuge island will align with a walkway on U-M's campus to help direct pedestrians to the island, Cawley said.
"We were trying to match up with what's on campus to have that system direct them to where the island is," Cawley said, though he acknowledged it may not work if people ignore it. "I don't think we're going to get 100 percent of the students crossing there."
Pedestrians typically cross Huron Street at Thayer, midway between Thayer and Ingalls or at Ingalls, Cawley said.
"The goal is to try to encourage folks to cross at the island," Cawley said. "This has been a long time in development."
The $6,400 construction project will be mostly funded through the Michigan Department of Transportation using federal dollars, as Huron Street is a state-owned route. About $600 of local match dollars will be required for the project.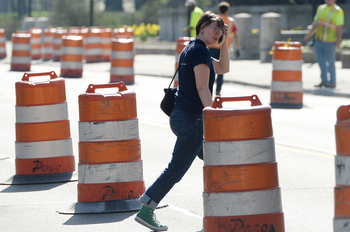 Melanie Maxwell | AnnArbor.com
Beginning Wednesday, one lane of East Huron Street in each direction will be closed until May 16. The outside lanes will be closed first and then the interior lanes will be closed later in the project.
East Huron Street will have to be widened about 3 or 4 feet on each side to allow traffic to flow around the pedestrian refuge island, Cawley said.
A pedestrian crosswalk in place at Ingalls and Huron streets will be removed after the new island is installed.
The new pedestrian crossing will be marked with static signs, Cawley said. Additional notification messages for drivers could be considered in the future, Cawley said.
The installation project for the island is on a set schedule and needs to be completed by May 16, Cawley said.
That means the project will be going on during U-M commencement activities this weekend.
"We're fortunate that during the weekend we will have reduced traffic to begin with," Kosteva said.
Traffic on graduation weekend typically flows from north to south and not east to west, Kosteva said. The lane restriction may mean that drivers on Huron Street will be sitting through one to two additional traffic light cycles as they travel from east to west, Kosteva said.
"I don't think it will be that detrimental of an effect," Kosteva said.
There is a possibility that the closed eastbound lane could be opened for graduation weekend, Kosteva said. That determination will be made later in the week based on the progress of the construction, Kosteva said.

View Pedestrian island construction in a larger map
Amy Biolchini covers Washtenaw County, health and environmental issues for AnnArbor.com. Reach her at (734) 623-2552, amybiolchini@annarbor.com or on Twitter.