Posted on
Mon, Nov 14, 2011 : 5:58 a.m.
Construction under way for new AATA bus pullout on Washtenaw near Arborland
By Julie Baker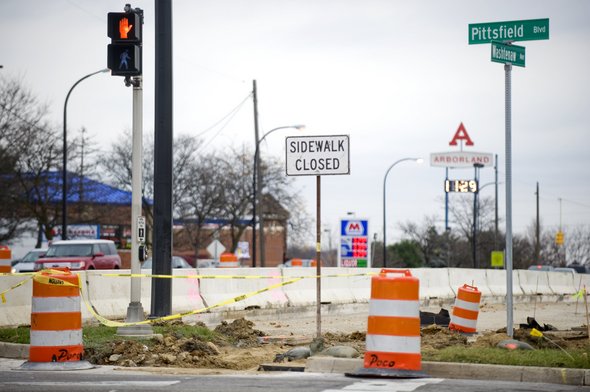 Joseph Tobianski I AnnArbor.com
Construction is under way on a new bus pullout on eastbound Washtenaw Avenue, east of Pittsfield Boulevard and opposite of the
Arborland
Center.
The Ann Arbor Transportation Authority formed an agreement with the city of Ann Arbor for the project in April. The project is meant to improve the Washtenaw corridor, the busiest corridor in the AATA system with more than 800,000 trips taken annually between Ann Arbor and Ypsilanti, according to the AATA. Many riders transfer between routes 4 and 7 at this location.
Arborland previously had a major bus stop and transfer station in its parking lot until July 1, 2009, when the shopping center ended the AATA's lease on the station. The closing of the Arborland bus stop affected an estimated 1,000 bus riders per day after 30 years of use. At the time, AATA officials said the main issue Arborland had with the bus stop was the 150 parking spots being used by commuters, according to a previous report.
The project costs about $154,000 and will be paid for with federal stimulus money granted to the AATA.
During the construction of a bus pullout, the Washtenaw and Pittsfield stop on the south side of the street for routes 4, 7 and 22 will be moved to a temporary stop located about 50 yards west of Pittsfield Boulevard, according a service alert from the AATA. It is recommended that riders needing an accessible stop use the bus stop located on Washtenaw about 50 yards east of Huron Parkway.