Consumers Energy crews replace about 40 feet of natural gas pipeline in Scio Township
Posted on Thu, Sep 13, 2012 : 6:33 p.m.
A section of a natural gas pipeline in Scio Township was replaced this week after a routine inspection revealed an abnormality, according to Consumers Energy.
The company's crews closed Tubbs Road between Stein Road and Huron River Drive Monday to visually inspect the pipeline. Tubbs Road is expected to open Friday to traffic.
The Washtenaw County Road Commission previously had incorrectly identified the owner of the pipeline as Enbridge.
Consumers Energy owns the pipeline, which runs northeast from a compressor station in southwestern Washtenaw County to the South Lyon area of Oakland County.

View Washtenaw County Road Commission work in a larger map
Line 2800 is an 18-inch diameter steel transmission line that carries natural gas into the distribution system, said Terry DeDoes, spokesman for Consumers Energy.
An inspection of Line 2800 conducted this spring using a smart pig that tracks pipe thickness and corrosion detected an abnormality in the pipe, DeDoes said.
This week, crews from Consumers Energy dug up a portion of Tubbs Road to reach the pipeline and replaced about 40 feet, DeDoes said.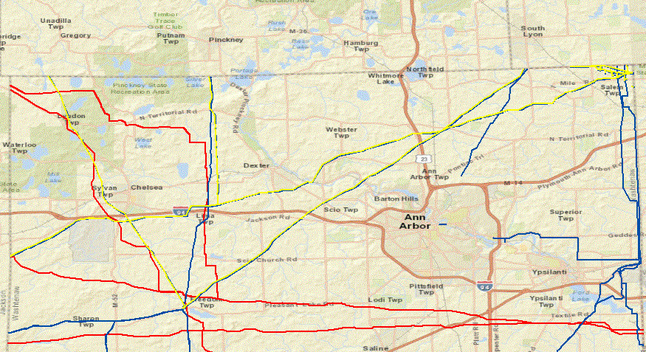 Courtesy of the National Pipeline Mapping System