Posted on
Thu, Mar 28, 2013 : 3:36 p.m.
Controlled burn in progress at Furstenburg Nature Area in Ann Arbor
By Amy Biolchini
A controlled burn is in progress at the 38-acre Furstenburg Nature Area on Fuller Road just west of Gallup Park on the north side of Ann Arbor.
The burn began at 1 p.m. Thursday and will go until 6:30 tonight.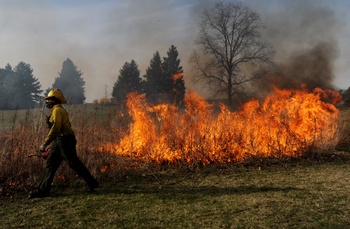 Melanie Maxwell | AnnArbor.com file photo
The method is used to control invasive plants by burning them. Trained professionals with the City of Ann Arbor's
Natural Area Preservation Unit
will be conducting the burn.
It is standard procedure for NAP to notify park neighbors in advance of a burn with a mailed notice that a controlled burn is scheduled. Police and fire departments also are alerted.
Those with questions should call the Natural Area Preservation office at (734) 794-6627.
A number of other Ann Arbor parks could potentially see controlled burns this spring: Argo, Bandemer, Barton, Belize, Bird Hills, Bluffs, Briarcliff Raingarden, Buhr Park Children's Wet Meadow, Burns Park, Cedar Bend, Fuller, Greenview, Hunt Park, Huron Hills Golf Course Woods, Kuebler Langford, Leslie Park Golf Course, Leslie Science & Nature Center Prairie, Mary Beth Doyle, Miller, Oakwoods, Olson, Onder, Ruthven, South Pond South, Veterans Memorial Park, Wheeler Service Center and Wurster.
Amy Biolchini covers Washtenaw County, health and environmental issues for AnnArbor.com. Reach her at (734) 623-2552, amybiolchini@annarbor.com or on Twitter.