Posted on
Wed, Oct 12, 2011 : 1:10 p.m.
Controversial student housing project 42 North no longer moving forward, Ann Arbor officials say
By Ryan J. Stanton
A controversial student apartment project known as 42 North is no longer moving forward, according to Ann Arbor officials.
Wendy Rampson, the city's planning manager, told members of the Planning Commission Tuesday night the project site plan — approved three years ago by a 7-4 vote of the Ann Arbor City Council — has expired and the property owner isn't seeking an extension now.
The project called for construction of five buildings on a 15-acre site owned by Grace Bible Church, off South Maple Road near Pauline Boulevard on the city's west side. It would have included 494 parking spaces, a number far in excess of that required by city code.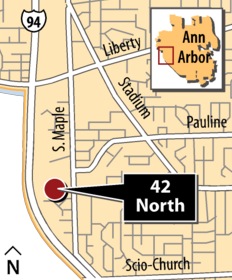 When the site plan expired recently after three years without activity, Rampson said the church, acting as the applicant, came in seeking an extension.
"And then they found that they were going to have to make significant changes to the plan in order to meet our new codes and opted not to do that," she said.
Rampson said the developer of the site never exercised its option to purchase the property, and the church was hoping to extend the site plan to make it available to a future developer.
A representative of the church could not be reached for comment.
At the time the project was approved in September 2008, council members spoke at length about their reservations about 42 North. A majority, however, concluded there wasn't sufficient justification to block the planned 120 four-bedroom units.
Because the project would have housed University of Michigan students at some distance from campus, transportation was a concern when it was approved. Neighborhood residents also raised questions about stormwater management and crime.
"It was a fairly controversial project," Rampson recalled Tuesday night. "It was a pretty ambitious project. There was neighborhood concern about the scale of the development and also the character of having a student housing project so far away from campus."
City Council members rejected an earlier version of the plan. The developer — Wood Partners — later reworked it, devising a project that didn't require the planned unit development rezoning previously requested.
Mayor John Hieftje said three years ago he was begrudgingly approving the project, even though he wasn't in favor of it. He said he thought it was being built "for a market that may not exist" and that the number of student housing units proposed was "way beyond demand."
Ryan J. Stanton covers government and politics for AnnArbor.com. Reach him at ryanstanton@annarbor.com or 734-623-2529. You also can follow him on Twitter or subscribe to AnnArbor.com's e-mail newsletters.