Posted on
Fri, Jan 6, 2012 : 9:54 a.m.
Cornell and University of Michigan's Glee Clubs partner for concert Jan. 13; iconic barbershop to close
By AnnArbor.com Staff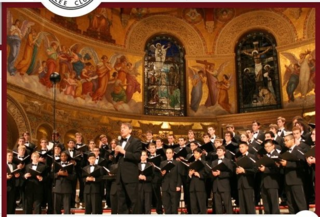 photo from Cornell University Glee Club's website
From a concert in which University of Michigan students partner with the Cornell University Glee Club to the closing of a local barbershop, here's a roundup of some of the stories posted on AnnArbor.com's Community Wall this week:
By: Cornell University Glee Club: Cornell University and University of Michigan Men's Glee Clubs in Concert!
There is no charge, only a free will donation will be collected at the door. Aside from the normal set of the Cornell Glee Club, this concert will feature a special collaboration with the University of Michigan Men's Glee Club.
By: Ben: Kingscourt Barbershop closing January 8
After decades of cutting hair and telling off-color jokes, Bob Burton is hanging up the clippers on January 8.
By: Janet Hawkins: There is still time to register at WCC
By: Martha Rhodes: Clonlara School Open House and
Garage Sale sponsored by Progressive Education Consortium and
"Play Again" Film Screening and Discussion sponsored by the Progressive Education Consortium and
PEC Lecture Series - "Interactive Metronome Improves Focus and Academic Performance"
By: Ken: Creating Healthier Homes for Our Babies
By: Justin Fisette: United Methodist Retirement Communities hires Sharon Pedersen as The Cedars of Dexter Executive Director
By: Jsmnd: Become PCI Compliant or Face Having To Stop Accepting Credit Cards
By: Jerry: Lunch and Learn at the Ann Arbor City Club
By: Mara Angeline Capili: ATHENA Award® Call for Nominations & Sponsors
By: Kathy: Sequoia Place Senior Housing exercise volunteer needed
By: Katie Martz: Center for Business Innovation Welcomes New Team Members
By: Beth Stewart: Michigan Philharmonic features a World Premier by Michigan Native, Andre Myers
By: Lynn Babcock: Join the Ann Arbor Bike Choir
Arbor.com's Community Wall is a spot for local people to post local stories, news and announcements. To post a story, sign in to AnnArbor.com, then go to www.annarbor.com/community and use the Got News? Tell Us function at the top to submit your news. If you have a photo to add, e-mail it to us at community@annarbor.com and we'll insert it into your story.