Counselors describe push to help students graduate on time as 'full-court press'
Posted on Sat, Jun 2, 2012 : 5:58 a.m.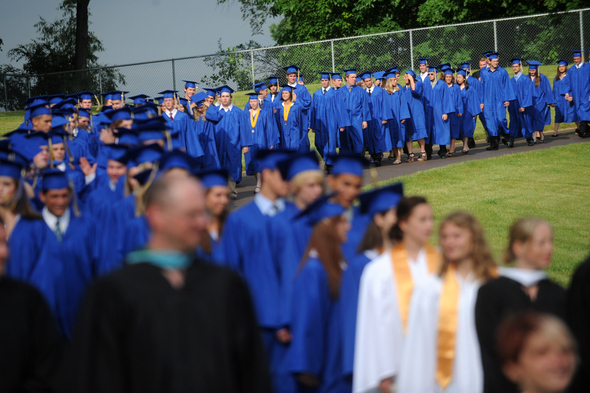 Melanie Maxwell | AnnArbor.com
Editor's Note: The number of Skyline graduates from Roberto Clemente has been corrected in this story.
Huron High School counselor Denise Eaddy-Richardson said around April, she starts wearing her gym shoes to work almost every day.
"Literally for chasing kids down the hallway to get them to turn in their work," she said.
Every year, there are always a handful of students — at Community High it's about 10 — in jeopardy of not graduating on time, either because of illness, family crisis, mental health issues, attendance issues or issues with their credits, explained John Boshoven, counselor at Community High School and Ann Arbor Public Schools coordinator for all district counselors.
If seniors are missing schoolwork through no fault of their own, such as they are out with mononucleosis or recovering from surgery, the district is "very merciful" about increasing their opportunities to retake tests and complete extra-credit assignments and papers, Boshoven said.
If it is the student's fault he or she is behind, it becomes a team effort to help that student cross his or her commencement stage.
"It's our job to give them a diploma," Boshoven said. "If we can't, we're failing them as a school."
Often children at risk of not graduating on time are identified as such during their freshmen years, the counselors said.
At Huron, the entire Class of 2012 was "targeted" four years ago as needing some "extra attention," Eaddy-Richardson said.
"Student achievement was not where we thought it would be," she said. "We had a mandatory after-school study hall for two years."
Eaddy-Richardson said sometimes students come in and they are emotionally immature or aren't academically ready or don't have the support at home.
"That was our perception (of this 2012 class). That they just needed a little extra care and monitoring to get them on the right track," she said, adding it was the first time since she has been at Huron that the school has mandated a study hour. Other classes have needed other interventions, though, she said.
Boshoven explained the earlier a school can identify its at-risk students, the better. Early intervention gives counselors and teachers the opportunity to move students into another school or program that might be better suited to help them achieve, he said.
"We're a less-structured school. But there are other schools in town with more structure," he said. "Sometimes when a student is not earning credits, it's because they don't have the right environment. Some kids need bells to get to class and walkie-talkies urging them in the hallways, so as counselors (at Community) sometimes we urge kids back to their comprehensive high schools."
But for those students who squeak by and make it to the 12th grade just shy of the required number of credits, that is when what Boshoven called the "full-court press" occurs.
The counselors said what remediation is done to ensure graduation changes on a case-by-case basis.
But the one thing that stays the same is communication.
At all of the schools it goes by a different name — at Community it's called a forum, at Huron it's an achievement team meeting — but the premise is regular, consistent and ongoing dialogue between the student, his parents, teachers and counselors to determine what is needed for the child to earn a diploma on time.
"It starts with the classroom teacher asking how come they didn't get that last assignment in and where is it? Does the student need help? Do they want a tutor?" Boshoven said. "Then the teacher spells out exactly what they have to turn in, which tests they can re-take, if there are summer school options."
Eaddy-Richardson added Ann Arbor's teachers care about students acquiring a body of knowledge, so they do not give out too many "freebies" unless there are extenuating circumstances.
"They want (students) to know true success, but (teachers) will stay after school with them — do whatever it takes to get them to learn the material," she said.
Boshoven said at Community, counselors use the graduation ceremony itself as a "pressure point."
"The kids don't want to miss the ceremony. It's a big love fest for families and for the school, and kids want to be a part of that," he said, explaining at Community High, there are no commencement speakers, that any student can step up to the podium and speak, sing, dance, perform on the tuba, tell jokes — "Whatever they want.
"It's special, and kids treat it specially."
Boshoven said sometimes during second semester, counselors can get students out of a class they are struggling in and put them in a credit recovery class instead.
"By second semester, we're not after 'A's for these kids. We're only after credit," Boshoven said.
Students are allowed to walk at their AAPS graduations if they are within one credit of the requirement. They can walk, but they won't receive a diploma and then they have until the end of the regular school year to do the work that is required and, sometimes, they can finish one class at summer school, officials said.
Huron has 30 students who are within 1.0 credit and will be walking this year, the district reported.
Boshoven added counselors and teachers use "loving, encouraging, nagging pressure" to get students to graduate. Eaddy-Richardson echoed his remarks and stressed the importance of being able to accomplish it on time with the rest of the class.
"These kids are not just our students. We're invested in these young people," she said. "And it's important that they know the joys of success and have that kind of positive outlook on their achievements when they step out into the future.
"Our society needs kids who understand how to make things happen in their own lives and can push through difficulty. That's why it's so important (students graduate on time)."
High school graduations begin this weekend for all of Washtenaw County's school districts. Lincoln and Willow Run high schools had commencement ceremonies Friday night, kicking off the summer open house season. They had 283 and 62 graduates, respectively.
The following chart shows the dates of the remaining commencements. Ann Arbor schools spokeswoman Liz Margolis stressed AAPS' graduation numbers are not final. Students still have until next week to turn work in to meet requirements, so the numbers will change, she said.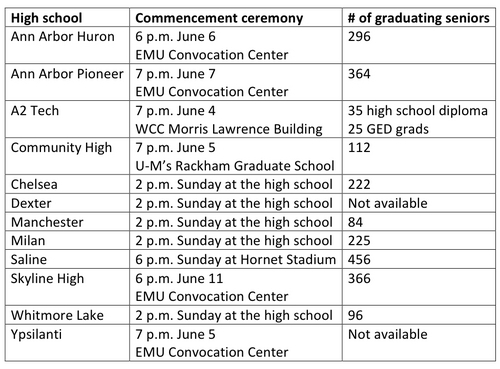 Ann Arbor's
Roberto Clemente Student Development Center
has 15 seniors this year and they all are graduating on time. They will graduate from their home high school. Ten are from Huron, three are from Pioneer, one is from Skyline and one is from
Ypsilanti
.
Staff reporter Danielle Arndt covers K-12 education for AnnArbor.com. Follow her on Twitter @DanielleArndt or email her at daniellearndt@annarbor.com.