Posted on
Wed, Oct 3, 2012 : 5:59 a.m.
Count Day 2012: Schools poised to make each student count
By Danielle Arndt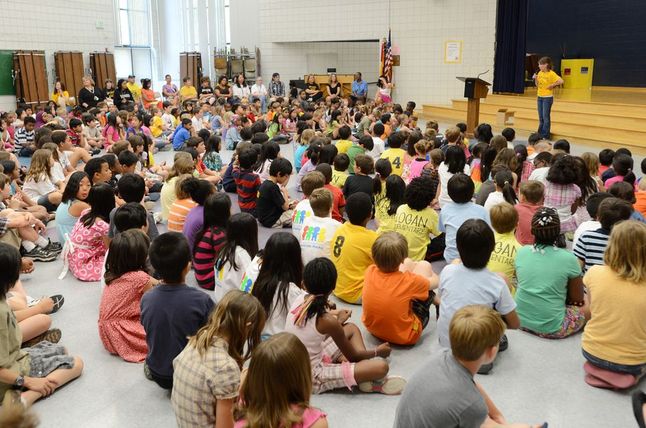 AnnArbor.com file photo
Attendance matters in public school districts and charter academies across the state of Michigan Wednesday.
The number of students in seats at public institutions today equates to a minimum of $6,966 in per-pupil funding this year — up from the minimum of $6,846 per student last year.
The per-pupil foundation allowance, which is distributed from the Michigan School Aid Fund, is a district's largest source of revenue each fiscal year.
Districts also receive funding from local and federal sources and can be eligible for limited categorical grant money from the state, such as for special education, adult education, preschool programs, vocational education and helping at-risk students.
Ann Arbor Public Schools, Washtenaw County's largest district, will receive $9,020 per student for the 2012-13 academic year. The total number of students used in the state's funding calculation is based on a blended count from both winter and fall student count days.
Fall Count Day carries the most weight, accounting for 90 percent of the blended total, whereas Winter Count Day, which occurred on Feb. 8, represents 10 percent of the final total population. Districts and charter schools have 10 days to report their enrollments to the Michigan Department of Education following the fall count day.
In fiscal year 2012, Ann Arbor Public Schools' blended count was 16,658 students. These pupils generated more than $150 million in revenue for AAPS, nearly 82 percent of the district's approximately $183 million operating budget in 2011-12.
Most of the smaller districts in Washtenaw County are projecting a loss in students this fall, but hoping for a gain. Declining enrollment has been the trend in public schools statewide for the past few years.
Saline Area Schools assistant superintendent and spokesman Steve Laatsch said the district budgeted for a loss of 50 to 70 students this Count Day. Losing 70 students at a rate of $7,173 per pupil would equate to a loss of more than $502,000 in revenue for SAS.
Laatsch said the district has had smaller incoming kindergarten classes the past two years than it has had outgoing senior classes, causing the decline. Saline's enrolling kindergarteners have totaled 300 to 350, while its graduating seniors have totaled 400 to 450, he said.
Lincoln Consolidated Schools budgeted for a 4.5 percent decrease in enrollment compared to last year, said Superintendent Ellen Bonter. A 4.5 percent decrease would equate to about 206 students or $1.43 million in lost revenue.
Ypsilanti and Willow Run school districts have lost the greatest number of students in the past two years and are projecting significant losses again this year. These districts receive $7,513 and $7,310 per pupil, respectively.
Washtenaw County charter schools have grown in enrollment by more than 28 percent in the past two years.
Visit AnnArbor.com late Wednesday afternoon for Count Day data as collected by Washtenaw County's charter academies and public school districts.
Danielle Arndt covers K-12 education for AnnArbor.com. Follow her on Twitter @DanielleArndt or email her at daniellearndt@annarbor.com.