Posted on
Tue, Aug 3, 2010 : 11:18 p.m.
Washtenaw County commissioner candidate wins by one vote
By David Jesse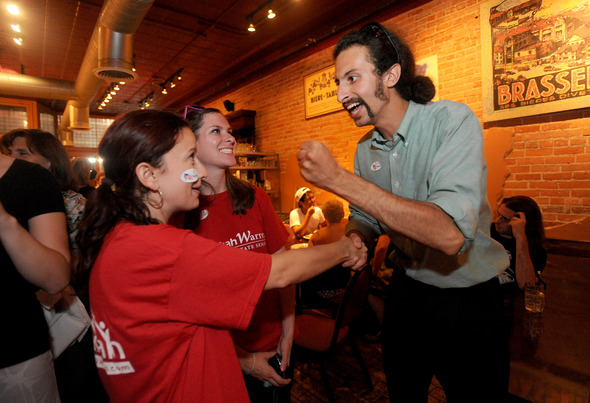 Yousef Rabhi
looked at the numbers his poll watchers were bringing back to Arbor Brewing Co. with a bit of dismay.
Those figures showed he lost by 10 votes.
But then the Democratic candidate for the 11th District Washtenaw County Board of Commissioners seat realized one precinct was left to be counted. He ran over to another local restaurant after he heard they had those results.
The count there showed Rabhi with 14 votes. His nearest competitor, Mike Fried, had 3 - a difference of 11 votes.
That left Rabhi one vote ahead.
That projection held out as the numbers came in. He had 998 votes to Fried's 997 votes. Two other candidates were in the race - Alice Ralph got 281 votes and LuAnne Bullington got 108 votes.
"I just flipped out," he said. "There were hugs. I'm crossing my fingers that it holds up. I'm going to count it as a victory for now and see how it holds up."
They are all Democrats looking to replace incumbent Jeff Irwin, who vacated his seat to run for the state House.
Ralph is an architect, Rabhi is a University of Michigan student and community activist, Fried is the former chief of administration for the Wayne County Prosecutor's Office, and Bullington is retired from a career in computer information services and education.
With the win, Rabhi moves on to the November general election, where he will face Republican Joe Baublis, who ran unopposed in the Republican primary and got 611 votes.

"This is really a testament to what a vote means," Rabhi said. "Everyone's vote really counted tonight."
David Jesse is a reporter for AnnArbor.com. He can be reached at davidjesse@annarbor.com or at 734-623-2534.