Posted on
Tue, Jan 29, 2013 : 11:29 a.m.
County salt truck slides off icy road, injures driver trying to help stuck fire engine
By John Counts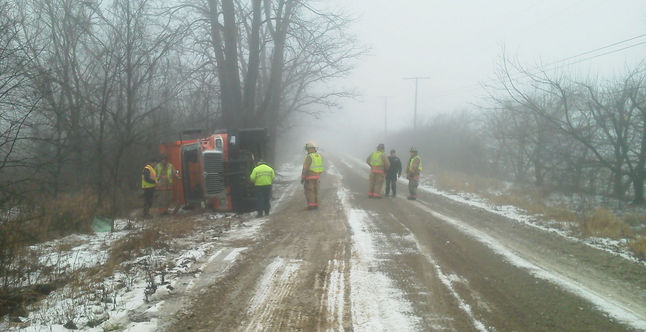 Courtesy of Washtenaw County Road Commission
A veteran driver for the Washtenaw County Road Commission was hospitalized after suffering minor injuries when his truck rolled over while he was attempting to help firefighters whose truck got stuck on an icy Superior Township road Tuesday morning, officials said.
A salt truck was called to the 5000 block of Joy Road at 9 a.m. to help after a Superior Township Fire Department truck couldn't move on the icy road, Fire Chief Jim Roberts said. The fire truck was responding to assist three motorists whose vehicle slid off the road.
The salt truck slid off the road and rolled over, and the driver, described as a 20-plus year veteran of the road commission in his 50s, was pinned in.
The windshield was cut and the driver was rescued and transported to St. Joseph Mercy Hospital, where he is being treated for minor injuries, said Aaron Berkholz, Superintendent of Maintenance for the road commission.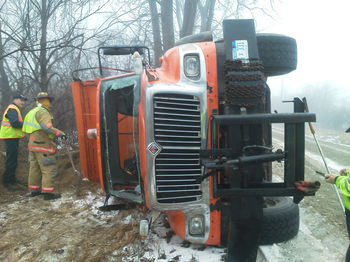 Courtesy of the Washtenaw County Road Commission
As of 11 a.m., Joy Road between Dixboro and Vorhies was closed to traffic as wreckers cleared the scene.
The trouble started in the morning when three vehicles slid off the icy, gravel road. Roberts described Joy Road east of Dixboro as having a decline before leveling out and rising into an incline. It was at this point where the fire truck got stuck.
"We couldn't go up or down," Roberts said.
The fire department called the road commission with hopes Joy could be salted or sanded to get the fire truck moving again.
The dump truck driver arrived and started spreading sand on the road, but also couldn't manage on the ice, Berkholz said. The truck flipped over onto its passenger side on the south side of Joy.
None of the nearby firefighters saw it happen.
"It being as foggy as it was, they did not see it," Berkholz said.
A motorist headed westbound on Joy saw the dump truck on its side in the ditch and called 911, alerting the nearby firefighters of the driver's plight. They cut the windshield out of the truck and pulled the man out through the opening. He was then taken to the hospital by Huron Valley Ambulance.
Berkholz said an occurrence like this is "very infrequent" for the road commission.
John Counts covers cops and courts for AnnArbor.com. He can be reached at johncounts@annarbor.com or you can follow him on Twitter.