Washtenaw County pledges $400,000 matching investment in Ann Arbor skate park efforts
Posted on Thu, Mar 11, 2010 : 6:02 a.m.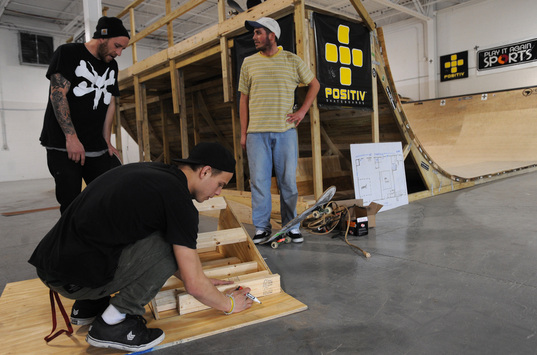 Melanie Maxwell | AnnArbor.com
Efforts to build a skate park in Ann Arbor received a boost this week when the Washtenaw County parks commission offered up to $400,000 in matching funds to help get the project off the ground.
The Washtenaw County Parks and Recreation Commission voted Tuesday to partner in the project, and the city of Ann Arbor has already pledged land for it in Veteran's Memorial Park on the city's west side.
Organizers with the Ann Arbor Skatepark Action Committee, which is promoting community efforts to create the skate park, said the funds will have a "transformative" impact on fundraising.
"We're on the brink of making it," said Jim Reische, fundraising co-chairman for the committee. "(The county funding) gives us tremendous leverage in our fundraising … It's tremendously persuasive, and it shows the county is willing to put their money behind this."
The matching funding will come from part of the county parks millage for capital developments. That means the county will match up to $400,000 raised through donations toward the park - bringing the possible grand total to $800,000 or more.
Some may question why the county would partner on a city asset like the skate park, said Robert Tetens, director of the Washtenaw County Parks and Recreation Department. But it's similar to many of the different partnerships the commission makes with communities in the county for projects like trail development, he said.
In the master plan, a skate park was already a county parks goal, Tetens said. This allows the commission to pool county money with other partners and get more bang for its buck.
"And for that, we will get a world class skate park," Tetens said.
The funding is becoming available just as organizers rallying behind an Ann Arbor skate park are hosting a fundraiser this weekend. On Saturday, an event called "The Grinds of March," sponsored in part by the Red Belly Board Shop in Ann Arbor, will offer open skating, giveaways, prizes and vendors to raise money. Professional skater Andy Macdonald, among others, is expected to make an appearance.
"It's definitely picking up steam," Alex Bombroski, owner of the shop, said of the potential matching funds. "We're looking forward to being able to break ground in the near future."
Ann Arbor's park could join about 80 open skate parks in the state, according to a Web site called Concrete Disciples.
The skate park action committee, with fiscal help from the Ann Arbor Area Community Foundation, has been busy raising the estimated $1 million needed to build and operate the park. Supporters behind the skate park say it would give skaters a designated place to skate that's actually designed for them, rather than skating within local cities.
Reische said building a skate park has resulted in a positive community effort to make a healthy recreational activity available to young people. And it's teaching them the value of civic engagement in the process, he said.
Committee chairman Trevor Staples said many people throughout the community have been asking what they can do to get involved and help.
"Now we can say, 'Donate whatever you can. It gets doubled and helps us toward our goal," he said.
A little over a year ago, the Ann Arbor City Council agreed to the development and operation of a skate park at Veteran's Memorial Park. It has not offered financial support, but council members sent a letter of support for the skate park to the county.
Ann Arbor Council Member Carsten Hohnke, D-5th Ward, said the skate park would add value to both the city and county. He called it an asset that will be all the more exciting when built because it took such a community effort to create it for "an under-served recreational segment of our community."
"This is great news," he said.