Posted on
Wed, Jun 30, 2010 : 6:01 a.m.
Countywide International Baccalaureate program could be housed in closed East Middle School
By David Jesse
A new countywide International Baccalaureate program could be housed in the recently closed East Middle School in the Ypsilanti school district in the fall of 2011.
"The building will probably need some additional renovations to make it suitable for the high school IB program," Washtenaw Intermediate School District spokeswoman Gerri Allen said in a statement. "The review to ensure that any needed modifications can be done is under way. While the site is being finalized this school year, a group of educators will work on the curriculum."
"By this fall, a proposal will be presented to each of the school's boards for their review and decision about participating," Allen's statement said. "Each district that decides to participate will be given a specified number of slots for which their students can apply. WISD will serve as the fiscal agent."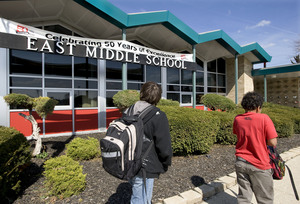 File photo
East Middle School closed at the end of the 2009-10 school year as part of the Ypsilanti school district's budget cuts.
"Ypsilanti Public Schools is elated with the prospects of the prestigious IB program being housed at the former East Middle School," said district spokeswoman Emma Jackson. "East is a beautiful, spacious, newly renovated facility and we will be pleased if this proposal comes to fruition."
The Washtenaw County Superintendents Association has been talking about adding an IB program at the high school level for much of the last school year.
"This spring, they voted to move ahead with the planning of a countywide magnet high school using the IB Diploma Program, beginning with a target of 150 students with a goal of up to 600 students by year four," Allen said.
International Baccalaureate is a rigorous program of learning used around the world with advanced students. Currently, 31 IB programs exist in Michigan, with another 30 or more in various stages of the authorization process.
David Jesse covers K-12 education for the AnnArbor.com. He can be reached at davidjesse@annarbor.com or at 734-623-2534.