Posted on
Sun, Apr 11, 2010 : 6:03 a.m.
Couple struggles to find housing in Washtenaw County as they grapple with unemployment and their pasts
By David Jesse and Tina Reed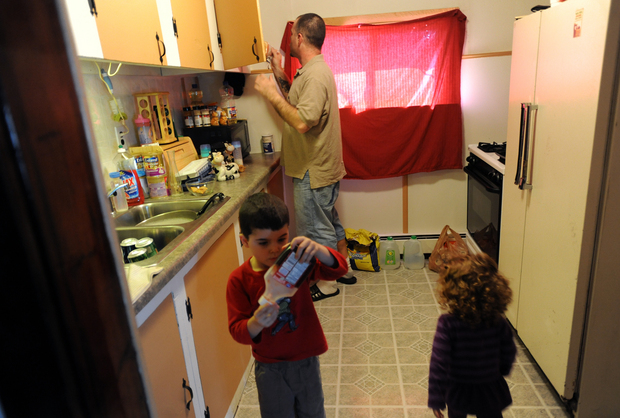 Melanie Maxwell | AnnArbor.com
Almost every night, Hidie Broskey finds herself lying awake, unable to sleep and unable to slow the thoughts racing through her mind.
Broskey, who is homeless, said she has a lot of worries these days about things like whether she's doing right by her children. She worries about whether state aid will come through, whether she'll find a job and about whether she and her husband will ever be able to provide a good home for the kids.
Providing that home for their kids has been much harder than she and her husband, Sonny Broskey, ever imagined.
Right now, the Broskeys live apart. Sonny, 34, rents a room from a friend in Ypsilanti Township, and Hidie is couch-surfing with friends and family after being asked to leave an Ann Arbor shelter recently. They've been splitting time with their two children, ages 2 and 4, and her 7-year-old child from a previous relationship, while searching for jobs and trying to work out other housing options. They're willing to do whatever it takes to get by and take care of the children, they said.

"I don't want my kids growing up the way I did," said Sonny Broskey, referring to times he said he bounced around among foster homes, his mother's home, a state facility and finally the streets while growing up. "I will not have that for my kids," he said. "Goal No. 1 is taking care of my kids."
The struggle
In this economy, competing for even part-time work has been difficult for many, but the Broskeys have more than just the economy working against them. Hidie Broskey never earned her high school diploma, and Sonny Broskey has a felony record, which means many jobs are closed to him. Even finding an apartment complex or a mobile home park willing to rent him a place has been near impossible, he said.
The Broskeys have been on a waiting list for a federally subsidized apartment for three or four years, he said. They live separately for a number of reasons. For example, he wasn't allowed to live at the shelter where Hidie was staying recently because of his weapons conviction.
"What I've been running into a lot is a lot of places won't let me in because of my felony record," Broskey said. "Unless an act of God wipes it away, it's gonna hit me for the rest of my life."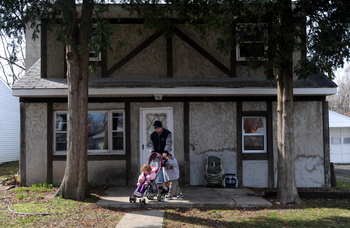 Melanie Maxwell | AnnArbor.com
Sonny Broskey's story highlights a problem that many former prisoners face after re-entry. Nationwide, many report limited housing options, according to the Urban Institute in New York. In addition, former prisoners often have low levels of education and work experience and find many employers are hesitant to hire them.
Most people living on a low income do not have a criminal background. But many, like Sonny, have faced a crisis or problem that landed them in trouble - whether that be struggles with uncontrolled psychiatric disorders, a devastating financial event like the loss or a job or mounting medical troubles.
And they generally share a common trait, experts say: They lack a strong safety net. Without such a net from family or other resources, problems can quickly compound. For instance, for someone living paycheck to paycheck, a traffic ticket or an unexpected medical bill could mean a rent check can't be paid.
"Some of it's pure luck - what family were you born in," said Joan Doughty, director of the Community Action Network in Ann Arbor. Support networks provide resources beyond simply monetary help in a pinch, Doughty said. They also connect people to others who can help them, provide educational support and help people learn problem-solving skills. Many who are living on a low income are often not well equipped to advocate for themselves, Doughty said.
Early troubles
Sonny Broskey said his problems began to compound when as a child he was passed among households. "It's a total lack of stability, consistency, care, love, affection," he said. "The education changes up on you. It's really hard on a kid."
He resolved to get out of the system, and when he was 17, he was released from being a ward of the state.
Three months later, he was racing down a road just outside of Lansing in a stolen car trying to elude police. The highway chase ended in a rollover accident and in Sonny Broskey landing in jail for the first time.
He spent about eight months in jail and another five months couch surfing before he learned about a program that helps former wards of the state get housing. He was 19 at the time and began working fast food and movie theater jobs. "I had no idea how to pay bills, use a credit card," he said.
Knowing it was an easy way to make extra cash, he began selling marijuana. "I got greedy," he said. He missed some probation check-ins and finally got in real trouble after he sold marijuana to an undercover cop. It eventually landed him a five-year prison sentence that was increased by four years after he got caught with a prohibited piece of scrap metal he says he used for self-defense in a fight.
That marked a turning point, he said.
"I realized, 'I've got to change something. I'm not doing something right here," he said.
Trying to start over
He kept his nose clean and got out of prison on Nov. 16, 2003. But Broskey thinks his change in thinking might have come too late.
Many potential employers, such as large discount stores or rental or maintenance companies, won't even call him back after learning about his record. The amount he makes working three nights a week at a local night club is not enough to pay rent, provide for his family and put money away in savings for a place to live.
"It's been really hard not to sit there and think about a life of crime," Broskey said. He's against breaking the law but can understand why guys who are trying to provide for themselves and their families end up right back in prison.
He thinks if he could just get a better job, maybe something that involved driving and deliveries, he'd be able to take care of his family.
Melanie Maxwell | AnnArbor.com
But he can't get a job driving because he doesn't have a license. And he can't get a license until he can pay off more than $3,000 in fees he owes.
Shortly after getting out of prison, he was cited for driving without a license while driving a friend to the hospital and incurred hefty fees. But, reasoning he needed a way to get to work to make money to pay that fine, he drove again and got hit with an additional ticket and additional driver responsibility fees.
"I know there are jobs out there. I could get a job delivering stuff if I can get my license cleared up," he said.
He'd rather be living in Florida. The couple lived in Florida for a few years because there was more work there and folks didn't seem to care as much about his record, Broskey said.
But it was painful for them to live so far away from two of Hidie Broskey's children from a previous relationship who live in Michigan with their father. So they moved back.
Getting help
The family has found some resources in Washtenaw County. Sonny Broskey praised the assistance available for clothing, for example. About a month ago, the family received emergency food assistance from the state. And Hidie Broskey said local shelters have given her temporary places to stay.
But Hidie Broskey said she struggles living in those situations and abiding by shelter rules after living on her own for so long. She'd received warnings for behavior a few times before finally being asked to leave a shelter recently.
So now she's searching for a new place to stay while also worrying about her job searches and whether she'll get rejected again. She stresses about filling out the paperwork correctly and getting approved for medical coverage through the state. She worries about whether their living situation is too stressful for her children.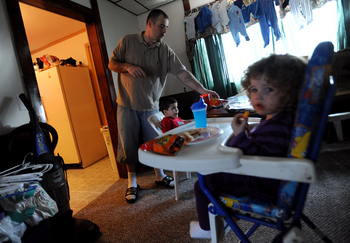 Melanie Maxwell | AnnArbor.com
Not having the family together makes coping with the stress even more difficult.
"It's really been hard on me to not be with him at night, to not have all of our kids together," she said. "It hurts me too. It hurts the kids. It's hard on the whole family when you have to deal with the emotional ups and downs. All we want to do is be together because we do the best at facing these obstacles when we're together," Hidie Broskey said. "When we're apart it's like the depression sets in … and you just want to pull out your hair sometimes."
Sonny Broskey said he often has to wait days until he gets paid before he can buy certain necessities for his family. Recently, it was some baby wipes for his daughter and a pair of shoes for his son. "As of right now, that's how my money is coming. I'm able to pay rent each month."
Hidie Broskey is convinced if some steady housing can just come through, she'll be able to focus on completing her education to improve her chances at a job. For now, too much effort is expounded on things like trying to contact her state case worker and getting medical coverage.
"As soon as I get my GED, then I can go into straight into a career. I'll be able to carry my family and say goodbye to all this state help," she said. "They don't make it easy at all. It's not worth it."
Sonny Broskey dreams of being able to purchase a house he could fix up to make a home for his family.
"As a father, to be away from my kids like that, I feel like I have a big hole in my middle. The things you take for granted … seeing them in the living room, tucking them in at night, waking up in the morning with two extra bodies in the bed because they got scared in the middle of the night. It's like a party that's missing."
Tina Reed covers health and the environment for AnnArbor.com. You can reach her at tinareed@annarbor.com, call her at 734-623-2535 or find her on Twitter @TreedinAA.