Posted on
Thu, Feb 14, 2013 : 5:58 a.m.
Couple who met volunteering at Food Gatherers celebrate Valentine's Day with donation
By Lisa Carolin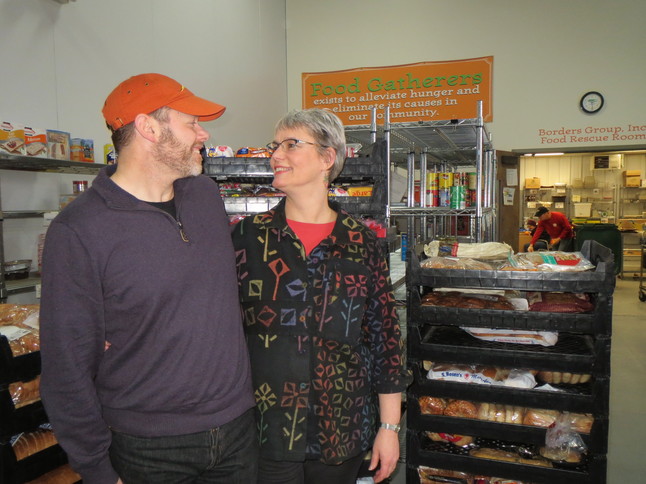 Photo by Mary Schlitt
Editor's note: The Wilkersons' names have been corrected in the photo caption accompanying this article.
How romantic can picking up old food be? Just ask Terri Wilkerson and Jim Lee who share a passion for it.
This Valentine's Day, Wilkerson and Lee are giving each other the same gift — a contribution to Food Gatherers' capital campaign to expand the warehouse. It's fitting for a couple who has supported Food Gatherers since the day they first met.
In the summer of 1995, both Wilkerson and Lee began volunteering at Food Gatherers every Monday morning as food-runners. They picked up and dropped off baked goods driving the Food Gatherers truck together.
They were a good team — in more ways than one, and on Oct. 19, 1996, the two volunteers were married. Now, more than 16 years later, they are the parents of a son, 14-year-old Spencer, and the couple is still volunteering at Food Gatherers.
"I first volunteered at Food Gatherers because I had a flexible work schedule and wanted to do something to eliminate food waste," said Lee. "We'd take the truck and drive around to local grocery stores and pick up day old breads and baked goods, some 2,000 pounds of it, every Monday morning."
"Sometimes we'd sort food at the warehouse and in later years we participated in Grillin' for Food Gatherers, the annual big fundraiser in June," said Wilkerson. "We continue to invite people to attend Grillin' so that they can get familiar with Food Gatherers too."
The couple agrees their shared interest in community service and willingness to get out and volunteer every Monday morning was an easy way to get to know each other.
Food Gatherers needs more volunteers now, particularly as food-runners and warehouse workers.
"We have a need for energetic volunteers who can take on physical tasks at our warehouse for 2- to 4-hour shifts, Monday through Friday, between the hours of 9 a.m.-5 p.m." said Mary Schlitt, director of development and marketing for Food Gatherers.
Schlitt says that volunteers account for nearly 70 percent of all hours worked at Food Gatherers, which distributes an average of 9 tons of food (equal to roughly 15,000 meals) per day to partner agencies in Washtenaw County.
"Our 150 partner programs receive mostly free food, products donated through our affiliations with local and national food programs, which is supplemented with food that is purchased at discounted rates," said Schlitt.
Schlitt says that Food Gatherers is working on expanding the warehouse to increase the quantity of food available including more storage and freezer space.
"Gifts to the capital fund will facilitate the expansion of our current warehouse by 12,775 square feet to more than double our current distribution capacity and create more than 150 additional pallet spaces of cold and freezer storage," she said.
The warehouse is located at 1 Carrot Way, off Dhu Varren Road in Ann Arbor Charter Township. For information on volunteering, email volunteer@foodgatherers.org.