Craig Hupy will make $127K as Ann Arbor's new public services administrator
Posted on Tue, Oct 2, 2012 : 5:55 a.m.
After 26 years of rising through the ranks, Craig Hupy, who started his career with the city of Ann Arbor as a civil engineer, is now one of the highest-ranking officials in city government.
The Ann Arbor City Council voted 9-0 Monday night to confirm Hupy's full-time appointment as public services area administrator.
Hupy had been filling the position on an interim basis since last December when Sue McCormick, the city's previous public services administrator, left to take a job in Detroit.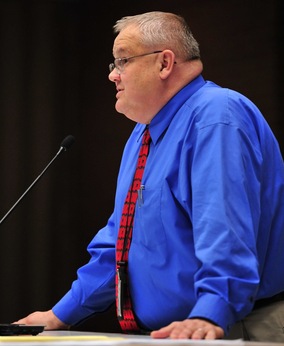 Ryan J. Stanton | AnnArbor.com
"Mr. Hupy has performed very well in the interim period," said Mayor
John Hieftje
. "We all know he has some very big shoes to fill in that position, but I think he's really stepped up to the task."
Hupy's new salary will be $127,000.
He previously made $110,000 as field operations manager, but his salary rate was bumped up to $128,000 while he was interim public services administrator.
McCormick's base salary as public services administrator was $135,600, though she made $176,774 in her last year, including severance pay and other cash perks.
The recommendation to appoint Hupy came from City Administrator Steve Powers, who has twice promoted from within the city's ranks to fill key leadership positions. Earlier this year, he chose Deputy Chief John Seto to take over as police chief and safety services administrator.
Council Member Stephen Kunselman, D-3rd Ward, gave credit to Powers for recognizing the talents of the city's employees.
"It brings confidence for other employees to stick around through thick and thin, because obviously working in the public sector is not easy," Kunselman said.
Before becoming public services administrator, Hupy had been the city's field operations manager since May 2009. Before that, he managed the city's systems planning unit and worked as a field superintendent in the utilities department.
As public services administrator, Hupy is responsible for overseeing several major city departments with a combined 272 full-time employees, including water and sewer operations, solid waste, project management, systems planning and other units, including the public art program.
Hupy was one of two finalists for the position. The other, Mary Anderson, most recently worked as director of public works for the city of Highland Park in Illinois.
Council members applauded Hupy for taking on a leadership role in controversial flooding issues in the city and for being responsive to residents.
Council Members Tony Derezinski and Marcia Higgins were absent.