Posted on
Wed, Jan 23, 2013 : 4:33 p.m.
Vehicles crash near city hall in downtown Ann Arbor
By Danielle Arndt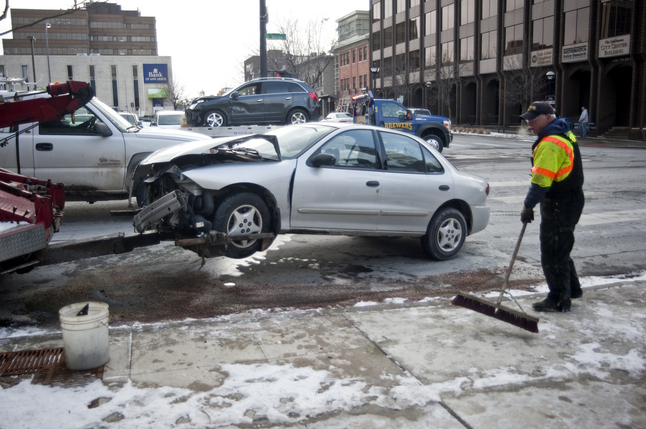 Joseph Tobianski | AnnArbor.com
A crash in front of city hall in downtown Ann Arbor Wednesday afternoon caused a minor traffic disruption and significant damage to at least two cars.
Police officers quickly cleared the scene in front of the Ann Arbor Municipal Center at Fifth Avenue and Huron Street Wednesday afternoon.
The accident occurred at about 3 p.m. Two vehicles were towed away with significant front-end damage. One of the vehicles, a blue SUV, hit a traffic light post on the southeast corner of the intersection.
It is not known whether there were any injuries in the collision.
Lt. Jim Baird with the Ann Arbor Police Department said details on the crash were not immediately available Wednesday afternoon.
Police were sent to the crash after security guards within the 15th District Court alerted them. Officers at the scene declined to answer questions from an AnnArbor.com reporter.
Crime and courts reporter Kyle Feldscher contributed to this report.
Danielle Arndt covers K-12 education for AnnArbor.com. Follow her on Twitter @DanielleArndt or email her at daniellearndt@annarbor.com.