update:

Crash in front of Downtown Home and Garden caused no damage to businesses

Posted on Sat, Oct 27, 2012 : 11:27 a.m.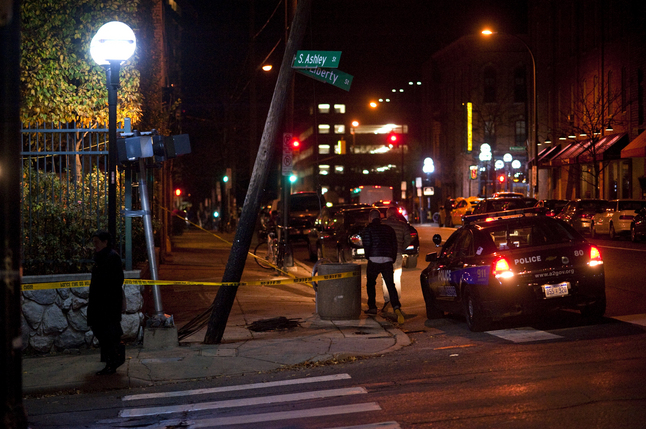 Joseph Tobianski | AnnArbor.com
Editor's note: This story has been updated as information has become available.
It was the crash heard 'round Bill's Beer Garden on Friday night — but according to part owner Mark Hodesh, "not much actually happened."
Hodesh said the actual hit happened in front of the Home and Garden parking lot, which technically is Bill's Beer Garden.
Two pedestrians standing on the north-west corner of Ashley and Liberty streets were hit by one of what they observed to be a two-car accident, but did not sustain any serious injuries.
Paul Parkanzky said he and his wife Audrey were both struck by a car and thrown in opposite directions. He said neither of them were run over after being thrown. He said although there was great potential for very serious injury, he and his wife were both OK.
"We went to the hospital and got checked out," Parkanzky said. "We have some crazy bruises and scratches, and we're pretty sore today but somehow not seriously injured."
Hodesh, who also owns Downtown Home and Garden, 213 S. Ashley St., said although he wasn't there, he received many reports from staff and witnesses about the incident.
"I discovered it when I came to work this morning so I was surprised," Hodesh said.
Ann Arbor Police did report to the incident, but there was no information available from them as of 11 a.m. on Saturday.
Hodesh said it looked like the car was going west on Liberty, and from what he's been told, no one was significantly injured. Onlookers said it appeared to be caused by traffic conditions and unrelated to alcohol.
No property damage was done to either of Hodesh's businesses, but he said there was damage to a telephone pole and it "sheared off" one of the Liberty and Ashley crossroad sign.
"I heard it was a loud noise, but no damage to us," Hodesh said, "It was kind of close, and it looked very dramatic, but no one got hurt and it wasn't that big of a deal at the end of the day."