Posted on
Tue, Feb 26, 2013 : 4:07 p.m.
Crashes already affecting Washtenaw County roads as winter storm rolls in
By Kyle Feldscher
As another winter storm started to roll into Washtenaw County Tuesday afternoon, dispatchers already are reporting crashes on area roadways.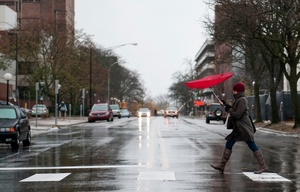 Dispatchers said a three-car accident on eastbound Interstate 94 between Zeeb Road and M-14 was slowing down traffic at 3:55 p.m. Tuesday. That crash could tie up the freeway for a little while, according to dispatchers.
A collision between a semi truck and a Chevrolet Blazer at Michigan Avenue and Feldkamp Road was reported in Saline Township. The crash was reportedly blocking part of the roadway but dispatchers said no injuries were reported at this point.
A directional sign was taken out in a crash at Barker Road and Kearney Road on the border of Northfield Township and Webster Township. Dispatchers urged drivers in that area to take extra caution.
The rain coming down in Washtenaw County at 4 p.m. Tuesday was expected to turn into snow later on in the evening. Three to four inches is expected to come in the Ann Arbor area, down from an expectation of six inches that was originally forecast.
Ann Arbor police reported two crashes at Depot Street and Main Street and Washtenaw Avenue near the Arborland Shopping Center.
More crashes were being reported consistently Tuesday afternoon and traffic back ups were reported on all area freeways.
At 5:20 p.m., dispatchers reported there were 13 crashes on roads around Washtenaw County.
A person was injured in a crash on a ramp at Interstate 94 and Ann Arbor-Saline Road, which may cause some slow downs but wasn't on the freeway. Two people refused medical treatment, according to dispatchers.
Crashes at southbound US-23 and Joy Road and westbound M-14 at Gotfredson Road involved cars spun out off the freeway.
Visibility was awful in downtown Ann Arbor at 5:25 p.m. and snow was starting to pile up all over the city. Drivers are urged to stay inside and off the roadways until the storm is clear.
Check back to AnnArbor.com for more information on crashes in the area as the storm continues.
Kyle Feldscher covers cops and courts for AnnArbor.com. He can be reached at kylefeldscher@annarbor.com or you can follow him on Twitter.