Posted on
Wed, May 2, 2012 : 5:49 p.m.
Crazy spring: March average temperature warmer than April's for 1st time in recorded history
By Cindy Heflin
Remember that record-breaking month of March? The warmest on record in Ann Arbor? The one that broke eight high temperature records and spawned a tornado? Well, you can add one more record to the list.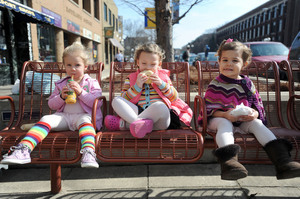 For the first time since weather record keeping began in Ann Arbor in 1880, the average temperature for March was warmer than the average temperature for April, reports University of Michigan weather observer Dennis Kahlbaum.
The average temperature in March in Ann Arbor was 50.7 degrees, Kahlbaum said, 14 degrees above the normal average of 36. The average temperature in April was 49.2, just a smidgen above the normal average of 49.
"That just shows how extreme March was more than anything," said Mike Richter, meteorologist with the National Weather Service in White Lake Township, which does weather forecasting for all of southeast Michigan.
Meteorologists say the abnormally warm March was the result of a ridge of high pressure parked over the eastern part of the country as well as the northerly position of the jet stream. Once that weather pattern subsided, more normal temperatures ensued.
For updated weather conditions and forecasts any time, check AnnArbor.com's weather page.