Posted on
Fri, Dec 14, 2012 : 10:18 a.m.
Creekside pupils dedicate Christmas tree to anti-bullying efforts; U of M class trains musicians in end-of-life care
By AnnArbor.com Staff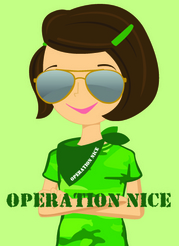 From pupils dedicating a Christmas tree to anti-bullying efforts to a University of Michigan course training musicians to work with ill and dying people, here's a roundup of some of the stories posted on AnnArbor.com's Community Wall this week:

By: Kristy Short: Students Create Operation Nice Anti-bullying-themed Christmas Tree - In the spirit of the season, Creekside Elementary students reflect on the value of being nice
Student Ambassadors of the Operation Nice Anti-bullying program dedicate their school Christmas tree to anti-bullying efforts. Students from Creekside Elementary deck out the school's Christmas tree with a "Spread the Nice" theme.
By: Kathy Holtz: Bedside Musician Training Offered at U of M
The Music for Healing and Transition Program is offering classes in early 2013 in Ann Arbor for musicians seeking to work with people in poor health and at the end of life.
By: Jane Lim: The Lack of Affordable Housing and Family Homelessness

By: Erin K. O'Neill: Learn to Harness Reddit for Digital Marketing During Ingenex's December #DigitalChat
By: Dawn Farm Education Series: Addiction and Suicide Prevention
AnnArbor.com's Community Wall is a spot for local people to post local stories, news and announcements. To post a story, sign in to AnnArbor.com, then go to www.annarbor.com/community and use the Got News? Tell Us function at the top to submit your news. If you have a photo to add, e-mail it to us at community@annarbor.com, and we'll insert it into your story.