Posted on
Wed, Nov 25, 2009 : 8:08 a.m.
Crime novelist ordered to stand trial in father's shooting in Dexter Township
By Lee Higgins
The day her cat died, Ann Arbor area crime novelist Lisa Ann Reardon drove to her father's Dexter Township home and shot him, her sister testified in court Tuesday.
Reardon always pledged she was "gonna do this" when her beloved cat Godfrey died, said Angela Hicks, who spoke to her sister shortly after the shooting as Reardon drove with her cat's carcass in the car.
At the end of the preliminary hearing Tuesday, a judge found there was enough evidence to order 47-year-old Reardon to stand trial on charges of assault with intent to murder and felony possession of a firearm.
Hicks testified she encouraged her sister to turn herself in after she shot her father in the leg and buttocks.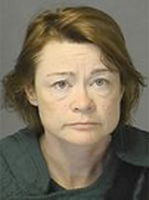 "I said, 'Lisa, you know you shot dad in the ass," Hicks testified. "She said, 'Yeah, I can't believe I missed. I'll never get another chance…I always told myself when Godfrey died, I'm gonna do this."
14A District Court Chief Judge Kirk Tabbey referred to that conversation as he denied a request by Washtenaw County Assistant Public Defender Christopher Renna to lower Reardon's $500,000 bond.
"I personally believe with her literary ability she chooses her words very carefully," Tabbey said.
Tabbey said Reardon strikes him as someone who has a "serious, serious problem with her father, which means it runs pretty deep."
Details about Reardon's relationship with her father, 68-year-old George Hicks, did not emerge during Tuesday's preliminary hearing.
Hicks testified he was watering plants outside about 7:30 p.m. Aug. 21 when Reardon pulled her car into his driveway on Brand Road.
She had talked to him on the phone about visiting because she "wanted to come over and straighten a few things out before a wedding the next day," he said.
Reardon got out of the car, pointed a gun at him and fired, hitting him in the leg and buttocks as he ran, he testified.
"I was running for the door to get in the house and telling my wife to get in the house because she was outside also," he said.
Hicks ran into the house through a door to the garage and shut the door behind him and locked it, he testified. He told his wife to call 911.
Reardon fired another shot by the doorknob, he testified.
"She said, 'Open the door. Open the door," he said. "It just blew that doorknob all to pieces, but it still held."
She then fired two more shots through the door about 11 inches higher than the first shot, Hicks testified. He told her she better leave before police arrive.
"You've done enough damage," he recalls saying.
Hicks' wife, Pamela, testified her daughter and 1-year-old grandson were inside the home at the time. Pamela Hicks was sitting in the garage and saw Reardon in the driveway, raising a gun.
"She said, 'Let's just clear the air right now," Pamela Hicks testified. "I just saw the gun kind of bobble up and down a little bit,"
Pamela Hicks ran inside after the first shot. Her husband shut the door behind them. She heard another shot. "I heard a shot and turned around to see if he was still alive," she said.
Pamela Hicks grabbed the phone from her daughter, telling her to go upstairs with the baby, and called 911.
Washtenaw County Sheriff's Deputy Harry Valentine responded to the shooting and found a shell casing to a .20-gauge shotgun in the garage and a single shot .20-gauge shotgun near the driveway. The shotgun needed to be unloaded and reloaded after each shot, he testified.
"There was a live round in the chamber when we found it," he said.
Investigators said Reardon was 17 feet from her father when she fired the first shot.
Under cross-examination, George Hicks said he hasn't had much contact with Reardon in the past 15 years, but when he did "noticed she had a lot of stress on her."
Hicks also said he didn't go to the hospital until about 90 minutes after the shooting.
Renna asked, "Do you have any idea why on August 21st Lisa came over to your house and did this?"
Hicks replied, "Yes." He did not elaborate.
When Angela Hicks met Reardon at about 9:20 p.m. that night in a parking lot at Tanger Outlets - Kensington Valley in Howell, Livingston County sheriff's deputies were waiting.
Hicks testified she took Godfrey, gave Reardon a hug and told her she loved her. She said Reardon was reluctant to turn herself in "because they'll impound the car with Godfrey in it," Hicks testified.
"She loved her cat," Hicks said. "He had been with her almost 20 years."
Investigators said they found $2,819 cash in Reardon's car, with a receipt indicating it was withdrawn that day.
Reardon had a live round and at least two spent shell casings in her possession, Valentine testified. Prosecutors said Reardon went to a pawn shop to obtain the gun and learn how to use it.
Investigators also recovered documents, including a list called "50 Ways," which outlines 50 ways to kill someone - ranging from hanging to making it look like a hunting accident, prosecutors said.
Renna argued Reardon could simply have been generating ideas for murder mysteries.
Reardon, who was living in Ann Arbor last summer, has written a number of novels, including "The Mercy Killers," based in Ypsilanti. She has no criminal record.
In one document found by investigators, Reardon wrote, "What if I kill dad, will there be a point to that?" said Washtenaw County Assistant Prosecutor Dianna Collins.
Collins said, "I think, your honor, if there is any reduction in this bond, she will go and kill him."
Lee Higgins covers crime and courts for AnnArbor.com. Reach him at (734) 623-2527 or by email at leehiggins@annarbor.com.