2 brothers suspected of abducting and shooting Ypsilanti man turn themselves in
Posted on Wed, Aug 15, 2012 : 4:28 p.m.
The two brothers suspected of kidnapping and shooting an Ypsilanti man Friday afternoon have turned themselves in and are scheduled to be formally charged Thursday, Ypsilanti police said.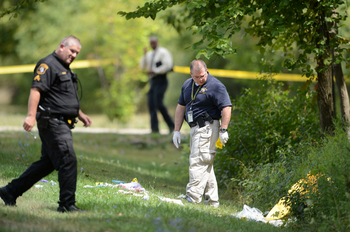 The 26-year-old and 23-year-old Ypsilanti men turned themselves into a detective Wednesday, police said in a statement. Warrants were filed for their arrests on Monday and police had been talking with the men's mother in order to try to locate them.
The two men are scheduled to be arraigned Thursday, police said in the statement. AnnArbor.com will release the men's names when they are arraigned.
The 23-year-old man faces four charges of assault with a dangerous weapon, two charges each of assault with intent to murder; assault with intent to do bodily harm less than murder and unlawful imprisonment and one charge each of carrying a concealed weapon and possession of a firearm during the commission of a felony. The 26-year-old man faces all of those charges plus an added charge of being a convicted felon in possession of a firearm.
Det. Sgt. Tom Eberts said the two men are accused of kidnapping a 28-year-old Ypsilanti man at gunpoint Friday afternoon from East Michigan Avenue and Park Street in Ypsilanti. The 28-year-old was shot multiple times in the legs before he was left bleeding on the side of Ford Road in Superior Township.
Police believe it might have been retaliation for an incident that occurred a few days before the abduction and shooting. The 28-year-old was in stable condition Friday afternoon.
The two suspects were identified because the 28-year-old was with another man at Michigan and Park when he was abducted. Eberts said the men pointed a gun at the other man and forced the 28-year-old into a red Chevrolet Camaro. The man who wasn't abducted knew the two men and identified them for police.