Posted on
Wed, Jun 19, 2013 : 3:59 p.m.
2 more suspected heroin overdoses reported as authorities warn about dangerous mix
By Kyle Feldscher
Two more people were treated for possible heroin overdoses during the weekend in and near Washtenaw County, according to police and medical officials.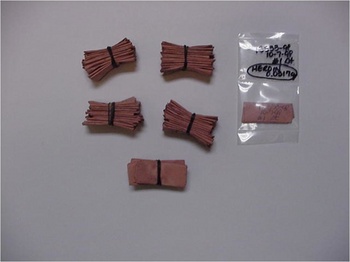 Courtesy of the Washtenaw County Sheriff's Office
The overdoses came just days after Canadian police officials warned of a dangerous influx of fentanyl manufactured in illegal labs that has been mixed with, or sold as, heroin. The warning came as a response to fentanyl-related overdoses reported in British Columbia, Quebec, Ontario, Rhode Island, Pennsylvania, New York and Southeast Michigan.
The latest overdoses came a little more than a week after a two-day stretch where eight people had suspected heroin overdoses, resulting in two deaths. The latest cases were not fatal, but did result in two people being hospitalized.
Huron Valley Ambulance spokeswoman Joyce Williams said medical personnel responded at 1:01 p.m. Saturday after one person suffered a possible heroin overdose in Ypsilanti Township. The patient was taken to St. Joseph Mercy Hospital in stable condition.
The next day, medical personnel responded at 8:57 p.m. to Van Buren Township for a person having a possible heroin overdose. That patient also was taken to St. Joseph Mercy Hospital in stable condition, Williams said.
Washtenaw County Sheriff's Office Sgt. Geoffrey Fox confirmed via text message that deputies responded to the Ypsilanti Township report. He echoed the HVA report that it was a possible heroin overdose and investigators could not immediately confirm the presence of the drug. The investigation is ongoing.
Southeast Michigan has seen a recent uptick in reports of heroin overdoses. A mix of heroin called Black Shadow appears to be one of the causes of the rise in heroin overdose deaths. In Washtenaw County, a 27-year-old Saline man and a 30-year-old Ypsilanti man died from suspected heroin overdoses that occurred on June 6.
According to a recent report in the Detroit Free Press, the number of heroin-related calls to the Poison Control Center from southeast Michigan nearly doubled in May from the same time in 2012.
A community advisory from the Waterloo Region Crime Prevention Council — based out of Waterloo, Ontario — shows the international spread of the dangerous drug.
The community advisory released on June 12 warns the public about an increase in fentanyl-detected overdose deaths.
"The onset of overdose associated with the fentanyl analogues may occur more quickly than other opioid overdoses," the advisory states. "It is important to call 911. A standard dose of the emergency medicine naloxone may not be effective."
Street dealers often are not aware of the dangers of the fentanyl-laced drugs, or might be misrepresenting the product to customers, the advisory states. The Peterborough Lakefield Community Police in Ontario seized pills being sold as OxyContin but were actually high-dose fentanyl.
In Metro Detroit, acetyl fentanyl is believed to be involved in heroin overdose deaths in the Downriver area, according to the Free Press report.
Kyle Feldscher covers cops and courts for AnnArbor.com. He can be reached at kylefeldscher@annarbor.com or you can follow him on Twitter.